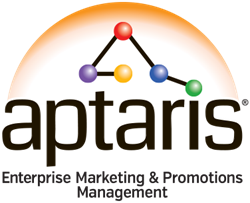 "Partnering with Aptaris and dunnhumby allows us to offer the same technology used by major global retailers to our client base of more than 200 independent regional grocers," said David Mitchell, President of Mitchell Grocery
Tampa, Florida (PRWEB) August 22, 2017
Aptaris®, an enterprise marketing and promotions management technology innovator, and dunnhumby, the leading customer data science company, today announced a multi-year agreement with Mitchell Grocery Corporation to provide their integrated enterprise marketing and promotions management, forecasting and pricing optimization platform. The new partnership and integrated solution will drive sales and build more profitable and competitive market positions for Mitchell Grocery's supermarket customers throughout the Southeastern United States.
"Partnering with Aptaris and dunnhumby allows us to offer the same technology used by major global retailers to our client base of more than 200 independent regional grocers. These optimization tools make our promotions more relevant to shoppers, leading to increased sales and customer loyalty for our supermarkets," said David Mitchell, President of Mitchell Grocery.
The dunnhumby and Aptaris integrated promotions management platform speeds collaboration and optimized offers across retail teams and outside resources with deep shopper insights, advanced analytics and forecasting. The cloud-based interface and intuitive dashboards assist with targeted business intelligence for marketing and category planners. Mitchell Grocery's independent grocers will now have unprecedented control and visibility into total category promotional plans.
Tom O'Reilly, CEO of Aptaris, stated, "The key to success for local grocers is to deepen relationships with their customers and showcase their commitment to the community. Working together, we identify shopper preferences and respond with more personalized communications that speak to regional tastes and interests. We're delivering a competitive advantage to Mitchell Grocery."
Delivering an end-to-end platform, dunnhumby customer data science and advanced promotional modelling and forecasting capabilities are embedded within the Aptaris enterprise promotional management solution. Beginning with the initial product deal submission from suppliers through the Aptaris Vendor portal, dunnhumby powers Mitchell Grocery's ability to model and forecast the effects of promotions on sales and profit; as well as the influence on customer shopping behaviors down to the individual shopper for its customers. Mitchell Grocery can now optimize both base and promotional retails through real-time modelling and forecasting, while gaining insights into the impact of pricing activities on the top and bottom line financials. Activating these insights within the platform, Mitchell Grocery now has the ability on behalf of its customers to create promotional events, including their weekly circular ads, with a 360-degree view of the impact on individual category plans across every store, their customers and their baskets – in real-time.
"In today's data-driven economy, customer data science empowers our customers to thrive by delivering a tailored customer experience that adds value," said Ted Eichten, Price & Promotion Capability Director, North America for dunnhumby. "We are really pleased to partner with Mitchell Grocery to support their independent grocer customers to meet their corporate objectives and become even more competitive in their regions."
To learn more about the trends and innovation in pricing and promotion including Aptaris and dunnhumby solutions, please register for the "Best Practices to Simplify Promotions Management and Increase Profit" webinar on Wednesday, August 23 at 2:00pm ET.
About dunnhumby
dunnhumby is a leading customer data science company. We analyze data and apply insights from nearly one billion shoppers across the globe to create personalized customer experiences in digital, mobile, and retail environments. Our strategic process, proprietary insights, and multichannel media capabilities build loyalty with customers to drive competitive advantage and sustained growth for clients. dunnhumby employs nearly 2,000 experts in offices throughout Europe, Asia, Africa, and the Americas and works with a prestigious group of companies including Whole Foods Market, Tesco, Monoprix, Raley's, Meijer, Michael Kors, Coca-Cola, Procter & Gamble, and PepsiCo. Learn more at http://www.dunnhumby.com.
About Aptaris
Aptaris connects the entire marketing and promotions management process for seamless omni-channel customer communications. Aptaris streamlines systems, processes, and data – from the moment of deal initiation through implementation to settlement and post-promotion analysis. Retailer merchandising, marketing, advertising, and store operations departments work better together to quickly identify opportunities, improve communications, get more from budgets and drive profitability. In a world of fewer resources and growing complexity, Aptaris helps marketers do more with less. Aptaris supports national retailers, distributors and consumer goods vendors. http://www.GoAptaris.com.