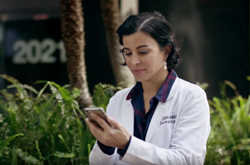 The new investment will fuel Silversheet's rapid growth trajectory in California and across the country.
(PRWEB) August 14, 2017
Silversheet, a Los Angeles-based company modernizing the process of medical credentialing has secured a $5 million Series A financing round led by Summation Health Ventures. The investment brings the startup's total funding to $10.2 million. Co-founders Dr. Miles Beckett, Dr. David Rakoff, and Pat Cheung joined by newly appointed President Steve Seigel are streamlining the way healthcare facilities onboard and engage with physicians, nurses, and fellow staff.
Technology built by doctors for providers
Silversheet technology platform helps providers create and update their entire credential file from a computer or phone in a few simple steps within minutes instead of days. They can update qualifications and instantly share their profile across different facilities to increase productivity and prevent frustration and burnout.
"Doctors, nurses, and other healthcare providers are able to spend more time with patients instead of paperwork. We are helping thousands of providers and health administrators communicate and collaborate easily through our innovative technology platform. The new investment will fuel Silversheet's rapid growth trajectory in California and across the country."

Dr. Miles Beckett, Silversheet CEO and Co-founder
"I have worked in the healthcare industry for more than 20 years and recognize that antiquated processes like provider credentialing are slowing the system down and creating unnecessary waste of time on redundant tasks. Silversheet has a standout team and intelligent technology. We are thrilled to support this team in driving the company's growth which will continue to benefit patient care."

Brant Heise, Summation Health Ventures Senior Managing Director
Technology benefiting administrators
Silversheet helps administrators keep up with the massive increase in patient populations. Hospitals and clinics are drowning in administrative costs, ahead of an influx of new patients. Every day 10,000 baby boomers retire and begin receiving Medicare benefits. Millions of newly eligible Americans are seeking healthcare under the Affordable Care Act. The US healthcare industry spends more than $15 billion each year, or 25% of total healthcare spend, to simply keep facilities running.
Silversheet is currently helping hospitals, urgent care centers and surgical networks around the country by:
-Replacing fax machines and filing cabinets with a comprehensive, cloud-based, secure data management platform built to be accessed from anywhere at any time.
-Reducing administrative resources and time needed to verify, track, and update provider information.
-Ensuring compliance and reducing risk of administrative errors that threaten patient safety.
About Silversheet™
Silversheet is headquartered in Los Angeles. It launched its service in 2015 with a $2.9 million Seed Round. Silversheet software solutions make it fast and easy for healthcare facilities and providers to connect and collaborate. The company is led by seasoned healthcare executives and creative entrepreneurs with successes across multiple industries. Co-founder and CEO Miles Beckett, MD co-created the award-winning web series lonelygirl15 and co-founded the media company EQAL which Everyday Health acquired in 2012. President Steve Seigel is a healthcare and technology executive with nearly a decade of operating experience. He is also an advisor to healthcare technology startup Honor and sits on many healthcare and technology-related boards. Co-founder David Rakoff, MD is a practicing anesthesiologist at St. John's Health Center, currently serving as an advisor. Co-founder and Head of Product Pat Cheung served as VP of Product for EQAL and has built multiple products and businesses as an expert in visual design, UX design, and product strategy. Silversheet has raised a total of $10.2m in funding from investors including Summation Health Ventures, Upfront Ventures, Rincon Venture Partners, SV Angel, Slow Ventures, BAM Ventures, Act One Ventures, and Cyan and Scott Banister.
About Summation Health Ventures
Summation Health Ventures is a strategic health care investment fund that aims to accelerate entrepreneurial solutions for the nation's health care systems. It is backed by the expertise of MemorialCare Health System and Cedars-Sinai Health System.
For more information, please visit https://silversheet.com/
Follow Silversheet:
Facebook - https://www.facebook.com/silversheetHQ/
Twitter - https://twitter.com/silversheet
Linkedin - https://www.linkedin.com/company-beta/4849263/
YouTube - "Doctors Love Silversheet" - https://www.youtube.com/watch?v=YFxMzG_9R1o
Press Contact: Lauren Phillips