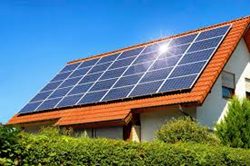 (PRWEB) August 22, 2017
New Fed Mortgage Corp., a multi-state residential mortgage lender has partnered with NRGTree to provide a link to "Own My Solar" via their website. This innovative online tool allows homeowners to quickly determine in a few minutes the economic viability of potential savings of owning a solar energy unit that is custom designed to their home.
About "NRGTree and Own My Solar"
NRGTree is a Massachusetts based technology company that connects property owners with lending institutions and solar installers. Their Own My Solar platform provides homeowners a convenient online and anonymous experience to understand if buying solar makes sense for them. Unlike leasing solar, purchasing solar enables the homeowner to keep all the federal and state incentives, substantially reduce their residential energy costs and significantly increase their home value. (The average Massachusetts household paying $100.00 a month for electricity can save an estimated $35,900 over the next 20 years-almost $1,800 per year. What's more consumers are willing to pay about $15,000 more for a home with rooftop solar panels.)
About New Fed Mortgage
New Fed Mortgage, locally based in Massachusetts has specialized in residential retail mortgage lending since 2001. Licensed in seven states on the East Coast, the company offers a wide array of financing options including Conventional, Jumbo, FHA, VA, USDA, Portfolio products along with state housing programs. Available products range from 1st time home buyer programs with little or zero money down, to "pick your term" traditional fixed rate products, adjustment rate programs, rehab loans and 203K renovation loans.
New Fed Mortgage President, Brian D'Amico, commented "I recently learned about this innovative green energy program and I'm excited to share the environmental and financial benefits of going solar."
New Fed can assist you with all available financing options for a solar system. One advantage of being a locally based Massachusetts lender, New Fed's focus is solely just on mortgage lending and getting to know its customers. NewFed takes an all-in team approach with personalized, open communication from very beginning of process right through to loan closing.
To learn more about the "Own My Solar "platform, contact NewFed Mortgage Corp. by calling
(877) 639-3331 or online at http://www.newfed.com and go to the NRGTree/OWNMySolar link.
**********
NewFed™ Mortgage Corp. was founded in 2001 as a residential mortgage lender. NMLS#1881 MA License No. MC1881, CT License ML-1881, NH License No. 9474-MB, RI License No. 20041817LL, NJ Residential Mortgage Lender License, FL License No. MLD652, Maine Lender License#SLM8185.NewFED™ Mortgage is an Equal Housing Lender. Member of the MA Mortgage Bankers Association and Better Business Bureau of Eastern MA.