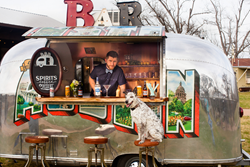 It's A Party On Wheels!
Austin, Texas (PRWEB) August 14, 2017
Right on the heels of being featured in the June 2017 issue of Rachael Ray Every Day magazine with their Silvercloud Mobile Bar service, Silvercloud Trailer Events® has been awarded three prestigious wedding industry awards for their unique vintage trailer-themed event rental services.
The Silvercloud Photo Booth service was awarded 'The Knot Best of Weddings 2017', an award representing the highest-rated wedding professionals as reviewed by real couples on The Knot, a wedding industry leader in event planning and vendor selection. Only 2% of the 250,000 wedding professionals listed on TheKnot.com are awarded this distinguished accolade each year.
Silvercloud Trailer Events® received the esteemed 2017 WeddingWire Couples' Choice Award® for the Silvercloud Photo Booth service and the Silvercloud Mobile Bar service. The WeddingWire Couples' Choice Award recognizes the top 5% of wedding professionals listed on WeddingWire.com that demonstrate excellence in quality, service, responsiveness, and professionalism.
The company also won the Gold Award, first place, in the Photo Booth category for the '2017 Best of Borrowed & Blue'. Wedding industry businesses choose the brightest stars from among their colleagues to receive this award.
Silvercloud Trailer Events® is a super fun, national entertainment brand serving the $72 billion US Weddings & Events industry and offers mobile bars and photo booth rentals in silver vintage trailers for wedding, brand activations and corporate events.