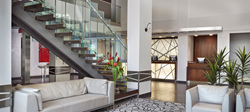 Our unique approach with our Latitudes Collection of distinguished independent lifestyle hotels and resorts, combined with our experience in major destination markets, will maximize the potential of these great hotels
Edmonton, AB (PRWEB) August 15, 2017
Crescent Hotels & Resorts has been selected to manage the Matrix, Metterra, and Varscona hotels in Edmonton. Crescent, with offices in Toronto, Canada and Fairfax, Virginia, is a nationally recognized elite operator of hotels and resorts throughout Canada and the United States.
While all three hotels are upscale boutiques centrally located in the heart of downtown Edmonton, they offer three very different experiences.
The 184-room Matrix is situated between the business and government districts for the convenience of the corporate traveler. Its modern décor blends clean minimalist lines with sleek and textural natural stone and wood, and art in warm hues of silver, pewter and platinum throughout the hotel. And it is well-suited for business and social events with 7,000 square feet of flexible meeting space for groups from 10 to over 200 people.
On Whyte Avenue in the centre of Edmonton's trendiest neighbourhood, the 98-room Hotel Metterra offers a contemporary experience to travelers who appreciate luxury. The natural wood furnishings and textured upholsteries in organically inspired colours, combined with global artifacts and unique art, create an eclectic design aesthetic. It can accommodate groups of up to 80 people in its event rooms, and was described as "the city's best boutique lodging" by Condé Nast Traveler in June 2017.
And the 89-room Varscona is more warm and comfortable for those looking for a home away from home when they travel. The combination of its old-world comfort with modern amenities, nestled amongst restaurants, boutiques and theatres, blends bohemian panache with contemporary chic. And it offers 4,000 square feet of space for events with more than 100 people.
"Our unique approach with our Latitudes Collection of distinguished independent lifestyle hotels and resorts, combined with our experience in major destination markets, will maximize the potential of these great hotels," said Michael George, Chief Executive Officer of Crescent Hotels & Resorts.
All three hotels are within walking distance of dozens of boutiques, cafés, coffee shops and pubs, as well as the Edmonton river valley with miles of cycling and walking paths, parks and off leash areas.
For more information about each of these hotels, visit http://www.matrixedmonton.com, http://www.metterra.com, and http://www.varscona.com.
_
About Crescent Hotels & Resorts:
Crescent Hotels & Resorts is an award winning, nationally recognized, top-3 operator of hotels and resorts. Crescent currently operates over 100 hotels, resorts & conference centers in Canada and the US. Crescent is one of the few elite management companies approved to operate upper-upscale and luxury hotels under the brand families of Marriott, Hilton, Hyatt and IHG. Crescent also operates a collection of legendary independent lifestyle hotels and resorts with Latitudes, a modern management company providing an authentic experience for today's unique lifestyle hotels and resorts. Crescent's clients are made up of hotel REITs, private equity firms and major developers. For more information, please visit http://www.chrco.com and http://www.latitudesbycrescent.com, or connect with Crescent on LinkedIn.