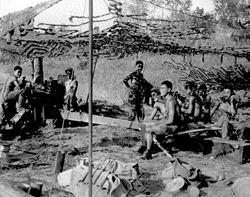 Presentation to warn future generations of the dangers of discrimination and war.
Lihue,Hawaii (PRWEB) August 17, 2017
An exhibit to honor the Hawaii soldiers who helped liberate the Dachau concentration sub-camps will be held Sept. 5-Sept. 27 at the Kauai Veterans Center. The men of the 522nd Field Artillery Battalion (FAB) were known as one of the fastest firing and most efficient fighting units. These Japanese-American soldiers were from the Japanese-American internment camps and wanted to prove their loyalty to their country. They fought throughout Europe.
According to Wikipedia, while the 522nd FAB covered 1,100 miles in their movement through Germany, their single most famous engagement occurred in southern Germany around Munich when the men stumbled upon roughly 5,000 prisoners marching through the countryside. Known as the Dachau Death March, the prisoners were forced to march as the Nazis attempted to destroy evidence of the holocaust.
A battle ensued, the 522nd won, and attempted to liberate the Dachau prisoners, but the problem was the Jewish prisoners saw the Japanese soldiers and became frightened by the soldiers of Japanese decent knowing Japan to be Hitler's ally.
For the 522nd soldiers, the sight of such suffering had a lasting impact. 522nd member Don Shimazu remembered their encounter with these thousands of emaciated and mistreated victims of the Nazi concentration camps. Though was the case with all concentration camp liberations, the soldiers were prevented from offering food and water to the prisoners as it might cause more harm than help.
Mr. Shimazu recalled, "Our hearts were saying, 'Yes, feed them, help them', but our heads were saying, 'No, don't feed them, those are our orders!"
The Irony of the liberation of the German concentration camps by these Japanese-Americans, many of who had families who were persecuted and imprisoned in the United States, was noted.
Ahh Aloha Kauai Vacation Rentals honors the event and wants the public to understand the sacrifices the Japanese-Americans made for their country in the name of freedom but the exhibit is not just to recognize the heroes of the past. The Unlikely Liberators exhibit is also to warn generations to come about the dangers of war and discrimination.