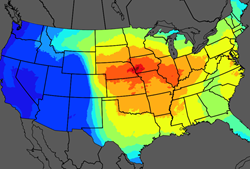 Adding weather data to each location can enable the vendor to recommend even more optimal - and ultimately profitable - solutions to their buyers. - Jim Lewis, Founder and CEO of Enhanced Retail Solutions
New York, NY (PRWEB) August 15, 2017
Enhanced Retail Solutions (ERS), a leading provider of Software-as-a-Service (SaaS) retail analytic and demand planning solutions to suppliers, licensors and their retail trading partners, today announced a new feature to their Retail Analytic Software: Twenty years of weather data across the US derived from National Oceanic and Atmospheric Administration's National Weather Service (NWS).
Many products and industries are vulnerable to weather trends which can consequentially cause sales to surge or constrict unexpectedly. The software does this study in an easy and automated fashion and will be rolled out to all Retail Synthesis clients.
More specifically, ERS' users can:

Study how temperature and weather conditions may have increased or decreased rates of sale.
Optimize product distribution and shipment timing to a retail chain.
Pinpoint opportunities to optimize sell through or inventory productivity.
Keep historic sales and weather conditions easily accessible.
For those clients that want historical and forward view of weather driven demand, ERS has a partnership with Planalytics, who offers a numerical representation of consumer need for a product or service caused by perceived changes in the weather at a given time or location. Planalytics sends their weather adjustment data to ERS at which point it is added to ERS database. Special fields enlisting a series of complex calculations to add the impact of weather to POS analysis and forecasting.
"Manufacturers are being held accountable for understanding retail dynamics more than ever before" said Jim Lewis, Founder and CEO of Enhanced Retail Solutions. "Adding weather data to each location can enable the vendor to recommend even more optimal - and ultimately profitable - solutions to their buyers."
About Enhanced Retail Solutions LLC:
Enhanced Retail Solutions is software and consulting firm specializing in Retail Analysis and Demand Planning for manufacturers, licensors and their retail partners. ERS' state of the art software tools and consulting deliver critical data quickly, easily and cost effectively, adding over one hundred million dollars to their clients' bottom line. ERS' broad customer base includes industry leaders in the electronics, consumer products, apparel, footwear, home textile, toy, home décor, home improvement, housewares, jewelry and food industries. Headquartered in New York City, Enhanced Retail Solutions has offices in the Dallas, TX and development in the US, Cork, Ireland and Delhi, India. For more information, visit http://www.EnhancedRetailSolutions.com.