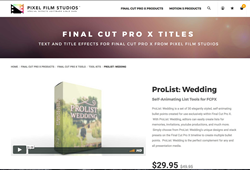 This new ProList was designed with a wedding theme to create lists with an elegant style.
Aliso Viejo, CA (PRWEB) August 13, 2017
ProList Wedding is a set of 30 elegantly styled, self-animating bullet points created for use exclusively within Final Cut Pro X. With ProList Wedding, editors can easily create lists for memories, invitations, youtube productions, and much more. Simply choose from ProList Wedding's unique designs and stack presets on the Final Cut Pro X timeline to create multiple bullet points. ProList Wedding is the perfect complement for any and all presentation media.
ProList Wedding is a package with as much as 30 self-animating bullet point designs, that contains simple to use backgrounds, and a grid tool that will assist with precise alignment. ProList is created for Final Cut Pro X users and designed for efficiency. Choose from a variety of presets with different elegant styles and dynamic animations. ProList Wedding's gracious style makes the perfect complement to almost any video production.
Each preset features elegant intro and outro animations, use each preset by simply dragging and dropping it above any media or a background in the Final Cut Pro X timeline. Alter the preset's customizable options while slider controls and insert text to create a personalized look. Expand the length of the preset to extend the amount of time the bullet point stays on screen.
Control design element colors, length, width, opacity, and finally, scale of ProList Wedding's presets with inventive slider control options. Utilize on-screen controls to manipulate the overall positioning, rotation, and scale of presets with drag and drop ease. ProList Wedding is built specifically for Final Cut Pro X users.
ProList Wedding is the perfect tool for nostalgia style videos as well as any presentation. Adjust the controls provided to achieve the desired look. Complete a bullet-point list by simply stacking multiple presets on top of one another over the desired media background. Mix and match different bullets and add a background to create a unique look.
Established in 2006, Aliso Viejo, California-based Pixel Film Studios is an innovative developer of visual effects tools for the post-production and broadcast community. Their products are integrated with popular non-linear editing and compositing products from Apple FCPX. Apple, the Apple logo, Mac OS X, and Macintosh are registered trademarks of Apple Inc. in the U.S. and/or other countries. All other trademarks and trade names are the property of their respective owners.