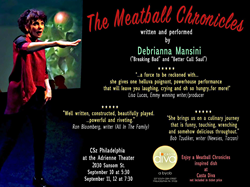 ..triumph and transcendence—complicated, mature and completely recognizable to all of us who have loved and been loved by family. The laughter and the pain is vulnerable and hilarious. Buckle up, it's quite a ride! Lisa Konoplisky Sfg I, Playwright
PHILADELPHIA,PA (PRWEB) August 15, 2017
Taste the unique partnership of Italian food between local restaurant and theatrical performance. This culinary journey includes two parts: a performance of Debrianna Mansini's The Meatball Chronicles and a meal by local Italian restaurant Casta Diva this September 10-12 in the 2017 Fringe Festival.
With its own twist on dinner theater, before or after the show, you can taste a dish inspired by The Meatball Chronicles at Casta Diva! Created and performed by film and TV actress Debrianna Mansini (Crazy Heart, Breaking Bad, and Better Call Saul) she narrates kneading the dough and thickening the sauce to family Italian recipes of pastas, calzones, pies, and of course meatballs that will leave your mouth watering. With this guiding your tastebuds, you can then experience a local, grass fed, farm to table, Italian meal prepared by Casta Diva chef Stephen Vassalluzzo.
The Meatball Chronicles reveals Mansini's Italian immigrant recipes and the complex ways that families cope, laugh, grieve, and show their love through food. A perfect match at Casta Diva, Vassalluzzo notes that his recipes, including homemade breads and pastas, are inspired by "the way my Grandmother did it." Together The Meatball Chronicles (at CSz Philadelphia at the Adrienne Theater 2030 Sansom St) partnership with Italian BYOB Casta Diva (227 South 20th Street)— right around the corner from each other— will result in a special dish inspired by the show, to share with audiences. Mangia!
WHAT: Fringe Arts Festival presents
The Meatball Chronicles
By Debrianna Mansini
WHERE: PERFORMANCE:
CSz Philadelphia at the Adrienne Theater
2030 Sansom Street
Philadelphia, PA 19103
RESTAURANT:
Casta Diva
227 South 20th Street
Philadelphia, PA 19103
WHEN: PERFORMANCES:
Friday, September 10 @ 5:30pm
Saturday, September 11 @ 7:30pm Sunday, September 12 @ 7:30pm
RESTAURANT HOURS:
Tuesday – Thursday 5p – 10p
Friday – Saturday 5p – 10:30p
New Sunday hours coming in September!
PERFORMANCE TICKETS: http://fringearts.com/event/the-meatball-chronicles/ or through the Fringe Box Office at 215.413.1318
RESTAURANT RESERVATIONS:
http://castadivabyob.com/
or call Casta Diva at 215.496.9677
COST: Performance: $20
Restaurant: Main dishes ~$20-$30 (Casta Diva is cash only.)
RUN TIME: To plan your Casta Diva reservations, the performance runs 90 minutes with no intermission.
SPECIAL NOTE:
In addition to during the run of the show, Casta Diva will offer their "Meatball Chronicles" Special the week following (September 15 – 20) with ticket to the performance.
Press Contact:
Thomas Choinacky
Titanic Promotions and Consulting
267.207.4488
thomasistitanic@gmail.com