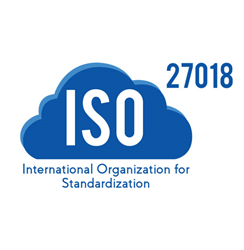 Implementing those standards and having independent auditors review, analyze, and attest to the adherence of these standards provides our customers and their clients an additional level o
Salt Lake City, UT (PRWEB) August 14, 2017
NetDocuments, the leading cloud-based document and email management (DMS) platform for law firms and corporate legal departments, today announced it has expanded the scope of its ISO 27001 certification to include the new standards identified in ISO 27018: Security Techniques – Code of Practice for Protection of Personally Identifiable Information (PII) in Public Clouds acting as PII Processors. Upon completion of the audit in the fourth quarter of 2017, NetDocuments will be the first legal DMS service provider to be independently validated as having extended the ISO 27001 certification by implementing the ISO 27018 standards.
David Hansen, Director of Compliance for NetDocuments commented, "ISO 27018 identifies best practices for protecting PII in the cloud. Implementing those standards and having independent auditors review, analyze, and attest to the adherence of these standards provides our customers and their clients an additional level of assurance and validation regarding the security architecture NetDocuments continues to expand on in order to protect customer data."
Join David Hansen on Wednesday, August 16 at 10:00 am in Oceanside F during ILTACON in Las Vegas, NV, for a session titled: Navigating Cybersecurity and Compliance in a Client-Driven Market
In addition to its expanded annual ISO 27001 certification audits, NetDocuments undergoes annual SOC 2 Type 2 audits for the security and availability of its global cloud platform. The updated ISO 27001 certification, with its expanded ISO 27018 compliance attestation, updated HIPAA compliance attestation, and the latest SOC 2 audit report, will all be available under NDA for customers and prospects to review in coming weeks.
View NetDocuments complete ILTACON 2017 session agenda: http://blog.netdocuments.com/en-us/netdocuments-iltacon-2017/
About NetDocuments
Founded in 1999, NetDocuments' cloud-based service allows firms of all sizes to reduce costs and increase security, mobility, compliance, and disaster recovery for documents and email from anywhere and on any device. With offices and datacenters in the US, Australia, and the UK, and with over 2,000+ customers and hundreds of thousands of users, NetDocuments is able to effectively service its global community spread across 140 countries. With anytime, anywhere access, firms are able to increase productivity and improve the client experience through a comprehensive cloud-based service. For more information about NetDocuments, please visit http://www.netdocuments.com.