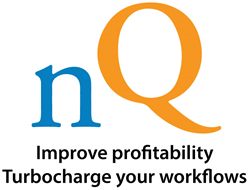 Tempe, Ariz. (PRWEB) August 14, 2017
nQueue, the leading innovator and provider of technology addressing law firms Information Workflow challenges, today announced at ILTACON its intensified focus on workflows with emphasis on document security, accuracy, efficiency and ease of use resulting in increased firm productivity and cost savings.
nQueue leads the industry innovating with its refreshing focus on workflows firmly anchored around helping firms with the issues of reducing paper and increased security.
For ILTACON 2017 nQueue is showcasing its core expertise, in workflow solutions, addressing these issues wrapped around its scanning solution "InfoRoute" and "Print AnyWhere". InfoRoute leverages ABBYY's world renowned OCR engine to produce the most accurate scan in the smallest possible file size all at speeds up to 2 pages per second. Additionally, all nQueue products now work with and without cost recovery.
Rick Hellers, President and CEO noted, "nQueue's roots began 16 years ago in leading the world, as a Cost Recovery innovator, with Embedded cost recovery including securing four patents". Hellers goes on to state that "nQueue has once again refocused itself to change the landscape of the legal industry, with its workflow solutions". Hellers is a founding member of VSLUG, the predecessor organization of ILTA.
For more information, please visit http://www.nQueue.com.
About nQueue
nQueue provides software-based workflow management and profitability solutions to more than 35 percent of the largest 250 law firms in the United States, seven of the top 20 in the U.K., seven of the largest 35 in Australia, and five of the Top 10 globally. The company's Document Scanning & Routing (InfoRoute) solution enables firms to capture, format, route and control scans to reduce costs associated with document retention and retrieval and improve Information Workflows. Additionally nQueue's Cost recovery solutions assist firms by enhancing the automation and processing of any operational and administrative expenses, including print, copy, scan, phone, fax, travel, court fees, research, overnight, courier costs, credit card charges and more on an extremely powerful platform. nQueue's software offerings, can be embedded directly into multi-function devices or reside on tablet computers or terminals to provide clients with the knowledge required to run their businesses more profitably. nQueue is a wholly owned subsidiary of Reckon Limited and is the only truly global cost recovery company. To learn more about nQueue, please visit http://www.nQueue.com.
Media Contact
John Gilbert nQueue
Tel: +1 (480) 436-5142
Email: jgilbert(at)nqueue(dot)com