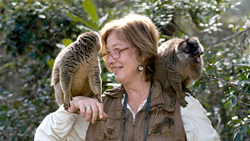 Frederick, Maryland (PRWEB) August 16, 2017
A Hood College alumna and distinguished professor of anthropology at Stony Brook University will speak at Hood College on Aug. 24.
Pat Wright '66, Ph.D., is the founder of Centre ValBio, a modern research campus in the rainforest of Madagascar that works to protect Madagascar's unique and biologically diverse ecosystems through conservation science and projects that directly benefit the local people, including rural health care delivery.
Wright will give a seminar, titled "Biology in Your Future: Will Tropical Places Survive?" at 1 p.m. in the Hodson Science and Technology Center, Room 131. She will give a public lecture, titled "Getting Stuck in Madagascar: New Discoveries of Forests and Fossils" at 7 p.m. in the Whitaker Campus Center Commons. Both events are free and open to the public.
In 1986, while on an exploratory expedition, Wright and her colleagues discovered a new species of lemur, the golden bamboo lemur (Hapalemur aureus). When this rainforest and the future of this new species were threatened by timber exploitation, Wright's attention turned to conservation. In 1990, she spearheaded an integrated conservation and development project at Ranomafana National Park in Madagascar that focused on the protection and conservation of endemic flora and fauna as well as rural development, education, and promotion of health services in the park's peripheral zone. She has published more than 150 scientific papers and four books.
Her work was recently featured in the 3D IMAX film, "Island of Lemurs: Madagascar," a documentary narrated by Morgan Freeman that highlights her efforts and her lifelong mission to help lemurs survive in the modern world. She was also featured in the New York Times and "Anthony Bourdain: Parts Unknown" on CNN.
In 1989, Wright became a John D. and Catherine T. MacArthur Foundation Fellow. She has been awarded three medals of honor from Madagascar, as well as honorary degrees from the University of Antananarivo, and the University of Fianarantsoa, Madagascar. In 2008, she was awarded the Hauptman-Woodward Pioneer in Science Award. In 2014, she was chosen as the first female winner of the prestigious Indianapolis Prize for Animal Conservation and was awarded the Lifetime Achievement Award at the Wildlife Film Festival. In 2014, she became a member of the American Philosophical Society, and in 2017 a Phi Beta Kappa Scholar.
For more information, contact Kathy Falkenstein at 301-696-3663 or falkenstein(at)hood.edu.