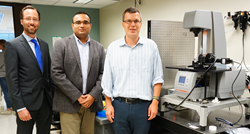 Ashland, Virginia (PRWEB) August 16, 2017
Anton Paar is pleased to announce an innovative partnership agreement with the University of Michigan's Chemical Engineering Department. Under the agreement, Anton Paar will provide Dr. Michael Solomon, a professor in the Chemical Engineering Department, with Anton Paar's most advanced rheometer to date, the TwinDrive™ MCR 702.
Anton Paar has long been an innovator in the field of rheological measurement, and putting Anton Paar rheometers in the hands of innovators like Dr. Solomon will help drive further understanding of complex fluid and flow problems. The TwinDrive™ MCR 702 rheometer comes with state-of-the-art instrumentation and is fully-loaded with accessories for maximum flexibility when characterizing complex fluids.
In a brief statement, Dr. Abhishek Shetty, Anton Paar's Lead Rheology scientist, detailed how the TwinDrive™ MCR 702 is revolutionizing rheological measurement: "This is the first rheometer to feature two torque transducers and drive units in a single instrument. This allows for entirely new possibilities like counter-rotation, which can be used to produce a stagnation plane in a measured sample to allow for easier microscopic investigation. Due to its modular concept, the TwinDrive™ is the first rheometer to allow for combined motor transducer and separate motor transducer measurements on one device, altogether eliminating the need for a second rheometer."
The TwinDrive™ MCR 702 was officially presented to Dr. Solomon on July 31st. The ceremony was followed by installation of the instrument and a training session on its use. Dr. Solomon noted how the new rheometer will immediately improve the department's work.
"This new instrument will allow us to study and create new materials. The ability to simultaneously observe microstructure and mechanics with the TwinDrive™ and its accessories will open up new kinds of experiments and new types of control," he said. "Our group seeks to understand how to develop materials that can perform autonomously, that can sense, and that can functionally reconfigure. The microscopy and scattering attachments will allow us to perform those measurements in a way that is truly integrated with the mechanical property characterization."
Those interested in learning more about the TwinDrive™ MCR 702 or partnerships with Anton Paar should contact Norbert Ponweiser at norbert.ponweiser@anton-paar.com or 804.550.1051.