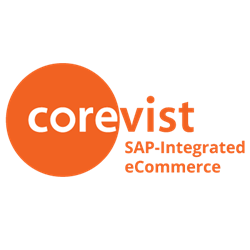 "This certification reinforces Corevist's position as a leading provider of lean, powerful, efficient B2B eCommerce solutions," said Dr. Sam Bayer, PhD, Founder and CEO of Corevist
Raleigh, NC (PRWEB) August 16, 2017
Corevist, a global provider of eCommerce solutions, today announced that its software, Corevist 2.0, has achieved SAP certification as powered by the SAP NetWeaver® technology platform. The SAP® Integration and Certification Center has certified that Corevist integrates with SAP NetWeaver 7.40. This means that companies using SAP solutions will be able to use Corevist to conduct eCommerce that communicates with SAP software in real time. Corevist eCommerce will help organizations reduce the burden on their customer service department by enabling a self-service B2B web portal for their customers.
Solutions that are powered by SAP NetWeaver can be more quickly and easily integrated into SAP solution environments. Customers can benefit from improved interoperability with SAP applications and with the large ecosystem of solutions that run on SAP NetWeaver. Choosing an SAP-certified solution can also help reduce overall IT investment costs and risks.
An eCommerce initiative with SAP software typically solves three key problems:
1. Opens up the opportunity to achieve greater market share by bringing personalized, B2C-style eCommerce experiences to the B2B world.
2. Reduces overhead by eliminating the need for human intervention in routine B2B purchasing.
3. Future-proofs a company for emerging trends such as Internet of Things, the mobile-first world, and customer desire for a self-service portal.
Corevist helps solve these key problems and advises organizations on how to promote eCommerce adoption to their existing customer base, as well as how to promote their new eCommerce platform to gain greater market share.
"We are delighted to receive certification for our Corevist 2.0 interface," said Dr. Sam Bayer, PhD, Founder and CEO of Corevist. "This certification reinforces Corevist's position as a leading provider of lean, powerful, efficient B2B eCommerce solutions for companies running SAP software."
WHEN:
August 16, 2017
WHERE:
Raleigh, NC, USA
About Corevist, Inc.
Corevist helps manufacturers and distributors who run SAP software to improve the online B2B order-to-cash process for their customers. Corevist is an official Magento Commerce Technology Partner, specializing in integrating Magento with SAP software. Corevist's application leverages existing SAP software installations to provide integrated eCommerce functionality with 90-day implementation windows at a fraction of competitors' costs. Corevist is headquartered in Raleigh, NC, with offices in New York, Pennsylvania, Maine, Belarus, and Switzerland. For more information, call (919) 424-2120 or visit http://www.corevist.com
# # #
SAP, SAP NetWeaver and other SAP products and services mentioned herein as well as their respective logos are trademarks or registered trademarks of SAP SE (or an SAP affiliate company) in Germany and other countries. See http://www.sap.com/corporate-en/legal/copyright/index.epx for additional trademark information and notices.
All other product and service names mentioned are the trademarks of their respective companies.