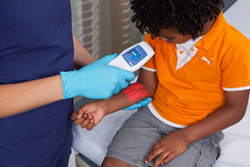 "This technology takes much of the guesswork out of a needle stick and more importantly, helps our staff members locate a vein that will provide good access to deliver the patient's treatment,"
Long Island, NY (PRWEB) August 16, 2017
Maury Regional Health has announced a large-scale adoption of AccuVein vein visualization to assist with IV starts and blood draws. By broadly deploying AccuVein devices, Maury Regional Medical Center is making vein visualization part of their standard of care.
"This technology takes much of the guesswork out of a needle stick and more importantly, helps our staff members locate a vein that will provide good access to deliver the patient's treatment," said Cardiology Nurse Manager Lisa Chambers, whose unit was among the first to use the technology at Maury Regional Medical Center.
Maury Regional Health is the largest health care provider between Nashville, Tennessee and Huntsville, Alabama and was named one of the nation's 15 Top U.S. Health Systems in the recent Truven Health Analytics Top Health System Study.
AccuVein Inc. is the global leader in vein illumination and the creator of the world's only hand-held, non-contact vein finding device. The AccuVein AV400 device provides a map of the patient's vasculature on the skin's surface. The AccuVein device has been shown to improve first stick success by a striking 350%, reduce pain by up to 59% and reduce procedure time by 78%. The Infusion Nurses Society (INS) has enhanced and updated its Infusion Therapy Standards of Practice, to include the recommendation of vascular visualization as a standard practice.
"AccuVein will benefit patients of all ages whose veins may be difficult to locate," said Assistant CNO Holly Kunz. "From our youngest patients in the Neonatal Intensive Care Unit who have very tiny veins to older adults whose veins tend to be quite fragile, patients can feel comfortable knowing our staff members have an additional tool to guide them in finding a usable vein for their test or treatment."
Venipuncture is the most common invasive medical procedure worldwide with an estimated 2.7 million procedures conducted every day in the United States alone. Studies show that up to one third of these attempts to access a vein fail the first time in adults and up to half the time in children, creating unnecessary patient discomfort as well as additional costs. For these reasons, health systems like Maury Regional Health are making vein illumination part of their standard of care.
AccuVein technology has been implemented at Maury Regional Medical Center in the Emergency Department, on patient care floors and in the Cancer Center. AccuVein will be available at Lewis Health Center in Hohenwald, Marshall Medical Center in Lewisburg and Wayne Medical Center in Waynesboro in the coming months.
About Maury Regional Health
Maury Regional Health is a not-for-profit regional health system serving southern Middle Tennessee through its hospitals, clinics, surgery centers, outpatient facilities and physician practice group. A four-time Truven Health Analytics Top Health System, the organization is committed to providing innovative care by combining convenient and affordable access with skilled and compassionate patient care. Maury Regional Health is the largest health care provider between Nashville, Tennessee and Huntsville, Alabama, with approximately 3,000 employees throughout the system.
About AccuVein Inc.
AccuVein Inc. is the global leader in vein visualization technology. AccuVein's flagship product, the AV400, is the world's only hand-held, non-contact vein illumination solution. The device has won numerous awards including the prestigious Prism Award for Photonics Innovation. Healthcare professionals see a map of peripheral veins directly on the skin's surface with the goal of accessing or avoiding veins. It is built on proprietary technology embodied in its growing patent portfolio on a broad range of imaging and medical diagnostic technologies. AccuVein is in use at more than 5,000 facilities and available for sale in over 130 countries worldwide. To see a demonstration of AccuVein in action, please visit http://www.accuvein.com