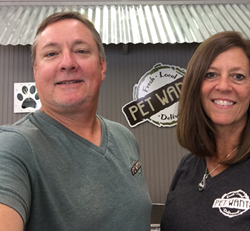 We're looking forward to making Pet Wants more convenient for more people by having a second store in the northern part of our service area.
Fort Mitchell, KY (PRWEB) August 14, 2017
When Rob and Donna Durnwald tried Pet Wants with their own pets, they were so impressed that they decided to open their own franchise in Florence. Now, after less than a year with one location, they have opened a second location in Fort Mitchell.
"Our Florence store has been very successful and we decided it was time to expand. Fort Mitchell is centrally located and in the northern part of our territory, so it made perfect sense," Rob said. "We're looking forward to making Pet Wants more convenient for more people by having a second store in the northern part of our service area."
The new location is at 2491 Dixie Highway in Fort Mitchell. The first location is still at 8459 U.S. 42 in Florence. The storefront locations are both open from 10am to 7pm Monday through Friday and from 10am to 5pm on Saturday. They are closed on Sundays.
Pet Wants' carefully developed proprietary pet food is slow-cooked in small batches with fresh, high-quality ingredients once per month, so every kibble is guaranteed to be fresh and packed with nutrition. Pet Wants Florence offers multiple blends of dog and cat food as well as healing salve, calming balm, anti-itch spray, paw wax and more. These products are also available at both locations and through Pet Wants free, personal delivery service, which delivers to Boone County and most of Kenton County.
Pet Wants' was founded by pet parent Michele Hobbs, who was having trouble finding relief for her dog's painful skin allergies. After much research, she decided to make her own food and Pet Wants was born. She started franchising the business with the help of Franchise Funding Group in 2015. The Durnwalds sold their painting business after 11 years and joined the Pet Wants team in late 2016.
"When Jake, our golden Labrador, started getting severe hot spots, nothing seems to help. When we switched to Pet Wants, we saw results in just a few weeks. We were so impressed with the impact the food had on Jake that we decided we wanted to be part of the Pet Wants family," Rob said. "We are extremely excited about the products we sell and it's amazing how many customers come in telling us how much the food has helped their pets – they have more energy, fewer health issues, less waste in the yard. It's awesome."
The Durnwalds, who live in Union, also have a one-year-old mixed breed named Bama. Rob said both of their dogs are in love with Pet Wants and are healthier than ever.
"Pet Wants is the healthy alternative to all the low quality, big box pet foods out there. Our small batch, high quality kibble is the best you can get and the results speak for themselves. The proof is really in the pet," Rob said.
To learn more about Pet Wants or to order Pet Wants, call (859)525-0400, email RDurnwald(at)PetWants.com or visit http://www.PetWantsFlorence.com.
About Pet Wants: Pet Wants was started by Michele Hobbs out of love for her pets and frustration. Veterinarians were unable to help relieve her dog's painful skin allergies. After doing much research, Michele discovered the national dog food brand she trusted was not fresh, not all natural, and lacked sufficient nutrition and – when pet food sits in warehouses and store shelves for months and months – it loses even more nutritional value. She was committed to developing a better solution for all dogs and cats. Their food is exclusively crafted. It's fresh, healthy and slow-cooked with no sugar added, no fillers and no animal by-products. They source only the best salmon, chicken, lamb, brown rice, and other ingredients. Fresh ingredients make for better food… and better health for pets. And since they never use corn, wheat, soy or dyes, the common pet health problems associated with these ingredients are no longer worries. Their fresh food is conveniently delivered to the customer within weeks of production, not months. Roughly half of Pet Wants products are sold through their store and half through their convenient, home-delivery program. You can learn more at http://www.PetWants.com.