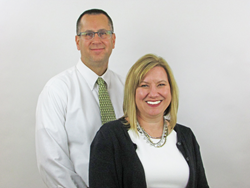 Bringing in an outside person with the expertise we have at Caring Transitions to help guide you through this transition can make all the difference.
Cleveland, OH (PRWEB) August 14, 2017
Mike and Liz Ivan are pleased to announce the launch of their new business, Caring Transitions of Cleveland Western Suburbs.
Caring Transitions' specially trained team can handle organizing, packing, de-cluttering, moving, resettling, in-person and online estate sales, liquidations, and preparing homes for market. Caring Transitions is America's largest resource for managing senior relocations, but the services are also perfect for busy families and individuals in need of assistance. Caring Transitions of Cleveland Western Suburbs serves Avon Lake, Bay Village, Rocky River, Westlake, North Olmsted, Olmsted Falls, Olmsted Township, Strongsville, Columbia Station and the surrounding communities.
Prior to opening the business, Mike and Liz spent their careers in Information Technology. As the locally owners of the Caring Transitions office in Cleveland's West Suburbs, the Ivans will bring their professional and personal experience and attention to detail to their clients in need of relocation and estate liquidation services.
"My mom passed away a while back and, when my dad fell ill, my family and I did all his transitioning on our own. Even with help from my brother and sisters, it was incredibly stressful to do all of that ourselves and it took months to finish. We needed Caring Transitions – we just didn't realize the service existed," Mike said. "When I came across Caring Transitions, it clicked. I'm hoping, by opening this business here in Cleveland, I can help other families through those kinds of stressful situations."
Whether your situation is planned or unexpected, Caring Transitions' services are perfect for seniors moving in with family or into a safer living situation as well as busy families and people clearing out the home of a loved one who has passed. All of Caring Transitions' services are customizable, so clients only pay for the services they need – whether that means managing the entire move and estate-clearing or just getting someone resettled into their new place.
"I really want to be able to help people. We all have an emotional attachment to our stuff and sometimes it makes all the difference to bring in a third party to help you sort through everything, decide what you really want to keep and make decisions about what to do with everything else," Mike said. "Bringing in an outside person with the expertise we have at Caring Transitions to help guide you through this transition can make all the difference."
Mike and Liz have a daughter, Sarah, and a son, Chris. They are also involved in a non-profit parent child organization at the local, regional and national levels. They are looking forward to getting more involved in the community through Caring Transitions.
Caring Transitions of Cleveland Western Suburbs is insured and employees have been background checked. For additional information, call (440)508-4957, email MIvan(at)CaringTransitions.com or visit http://www.CaringTransitionsClevelandWS.com.
About Caring Transitions
Caring Transitions, founded in 2006, is the first national franchising concept specializing in senior relocation and transition services. With more than 200 locations throughout the United States all owned and operated by Certified Relocation and Transition Specialists, Caring Transitions provides clients with supportive moves, auctions, rightsizing and transitions. This includes expert advice plus a well-executed transition plan beginning with the initial sorting of personal belongings through packing, shipping and selling of items to the final clearing and cleaning of the property. For more information, visit http://www.caringtransitions.com or visit us on Facebook.