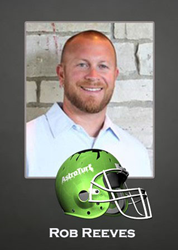 This is a wonderful opportunity for me and my family to be a part of a great company and I am excited about the fact that it still provides me an opportunity to remain engaged in the game of football and to work with coaches
Dalton, GA (PRWEB) August 16, 2017
AstroTurf is pleased to welcome Rob Reeves to its staff in a dual role as Regional Manager and Director of College Football Sales. Rob brings a wealth of college football knowledge and experience to his new career in the artificial turf industry.
A native of Saline, Michigan, Rob's most recent position was that of an assistant coach for the University of Minnesota football team. He coached running backs and tight ends for the Golden Gophers for the last six years. Prior to joining the Minnesota coaching staff he was the running backs coach for Northern Illinois University. Rob also enjoyed a stint as the running backs coach for Southern Illinois University where his backs received four All-America honors and eight all-conference awards. His earlier career included a position as the running backs coach at Emporia State. Rob is well respected by his Division I peers and is known for his ethical and professional approach to college football recruiting.
Rob's time in coaching began as a Graduate Assistant at Saginaw Valley State following a stellar career playing for the school. Reeves was an All-American quarterback at Saginaw Valley where he played for former Minnesota Head Coach, Jerry Kill. He was a two year starter and an All-American selection in 1994. Rob was also a two time All-Midwest Intercollegiate Conference selection. He holds a bachelor's and master's degree from the school.
"We are very pleased to add someone of Rob's background and integrity to the AstroTurf family," said Todd DeWolfe, Regional Vice President for AstroTurf. "Rob will bring a wealth of knowledge and connections having coached at the highest levels of College Football. We're ecstatic to bring him into the fold and get him out promoting the AstroTurf brand to Colleges and Universities around the country."
"I am extremely excited about this new challenge working for AstroTurf," said Reeves. "The company is respected throughout the coaching profession and the quality of their fields is also well known. This is a wonderful opportunity for me and my family to be a part of a great company and I am excited about the fact that it still provides me an opportunity to remain engaged in the game of football and to work with coaches."
In addition to his duties as the Director of College Football, Rob will manage the territories of Minnesota and Wisconsin.
About AstroTurf®
For athletes and sport enthusiasts, AstroTurf® has redefined the way the game is played. The brand offers advanced, state-of-the-art, multi-sport and specialized synthetic turf systems with proprietary engineered technologies. A growing number of high schools, colleges, professional sports teams and municipalities continue to select AstroTurf-branded products for their premium quality, technical superiority, and safety. To learn more, visit AstroTurf's newly redesigned website at http://www.astroturf.com.