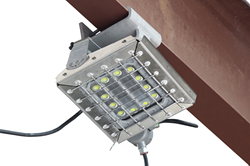 The most notable feature in this LED string light is that it can be daisy chained together. This allows operators configuration flexibility to achieve the best illumination patterns for their job site."
Kemp, TX (PRWEB) August 14, 2017
Industrial lighting leader, Larson Electronics LLC, has just announced a new heavy-duty explosion proof string light, that can be daisy chained for flexible illumination options, and is Class 1, Division 1 and 2, and Class 2 Division 1 and 2 approved. This LED string is ideal for inspection activities and temporary illumination in hazardous locations requiring explosion proof protection.
The EPL-SL-10-50X-150LED-RT-IBC-HD 1500 watt LED string light set is suitable for use in areas where petrochemical vapors and hazardous dust are present. This fixture can be daisy chained together, meaning multiple units can be connected and powered by a single source, allowing operators to easily manage a configuration that works best for their job site and move it around as needed. With cast aluminum housing, tempered glass lens and abrasion resistant cord, this unit is extremely durable and resistant to chemicals, abrasion, vibrations and impact. Each LED light fixture has a CNC waterjet cut 1/8" aluminum "frame" that helps protect the fixture from accidental damage. This explosion proof string light is lightweight and has a low profile making it an attractive alternative to larger, heavier traditional fixtures.
With impressive construction and functionality, comes equally impressive LED illumination. This string light contains ten 150-watt LED work lights that have I-beam mount clamps, and are connected along 450 feet of 10/3 SOOW cable, 50 feet in-between each LED. Producing 17,500 lumens of high quality light, while only drawing 150 watts, this explosion proof string light is an energy efficient option for any general work area, and a direct replacement for 400-watt temporary metal halide fixtures. A specially crafted heat dissipating design and LED technology helps this explosion proof string light achieve a 60,000 hour rated lifespan with an excellent 80% lumen retention.
"The most notable feature in this LED string light is that it can be daisy chained together," said Rob Bresnahan, CEO of Larson Electronics LLC. "This allows operators configuration flexibility to achieve the best illumination patterns for their job site."
About Larson Electronics LLC: Larson Electronics LLC is a manufacturer of industrial lighting equipment and accessories. The company offers an extensive catalog of industry-grade lighting and power distribution products for the following sectors: manufacturing, construction, food processing, oil and gas, military, marine and automobile. Customers can benefit from the company's hands-on, customized approach to lighting solutions. Larson Electronics provides expedited service for quotes, customer support and shipments.
High Resolution Image 1-EPL-SL-10-50X-150LED-RT-IBC-HD
High Resolution Image 2-EPL-SL-10-50X-150LED-RT-IBC-HD
High Resolution Image 3-EPL-SL-10-50X-150LED-RT-IBC-HD
High Resolution Image 4-EPL-SL-10-50X-150LED-RT-IBC-HD
High Resolution Image 5-EPL-SL-10-50X-150LED-RT-IBC-HD
Product Cut Spec Sheet-EPL-SL-10-50X-150LED-RT-IBC-HD