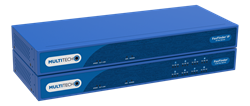 Mounds View, MN (PRWEB) August 15, 2017
Multi-Tech Systems, Inc., a leading global manufacturer of M2M and IoT devices, today announced a major update to its award-winning MultiTech FaxFinder® fax server. FaxFinder is an all-in-one network attached appliance that allows faxes to be sent and received electronically. FaxFinder software update 5.0 is available today to new and existing customers worldwide.
The newest version enables current generation of FaxFinder users to leverage what MultiTech is calling a "hybrid transport" approach. With the new version, users can now continue to leverage their analog infrastructure for sending faxes, as well as connecting to etherFAX® or a SIP provider for an alternative delivery method.
etherFAX, MultiTech's partner and recommended method of fax transport, is a secure data transmission solution that leverages hybrid cloud technology for fast, reliable and cost-effective fax communications. Additionally, FaxFinder takes advantage of etherFAX SEN, the company's patented Secure Exchange Network to send and receive fax communications with guaranteed delivery, support for high-resolution, and faster transmissions. etherFAX or SIP can also be set as the primary method, with an analog connection serving as the alternate.
"MultiTech understands there are several methods of sending and receiving faxes available in the marketplace today and reviewing, selecting and implementing one of these options can be quite daunting," said Steve Arend, Vertical Market Manager at MultiTech. "We believe by adding multiple transport options and maintaining our straight forward, turnkey approach to the FaxFinder, we have one of the simplest, most adaptable and cost-effective fax solutions in the marketplace."
About MultiTech
MultiTech designs, develops and manufactures communications equipment for the industrial internet of things – connecting physical assets to business processes to deliver enhanced value. Our commitment to quality and service excellence means you can count on MultiTech products and people to address your needs, while our history of innovation ensures you can stay ahead of the latest technology with a partner who will be there for the life of your solution. For more information, please visit http://www.multitech.com.
MultiTech Press Contact:
Jennifer Costello, MG Communications; Tel: 781-715-4870
Email: jennifer(at)mgresults(dot)com