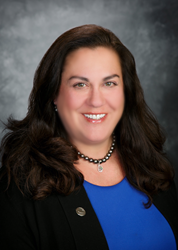 Michele Light embodies Centric Bank's #BeTheDifferenceMaker philosophy by empowering women both in the financial services industry and in her community.
Harrisburg, Pennsylvania (PRWEB) August 28, 2017
Michele Light, Senior Vice President, Market Leader, for Centric Bank has been appointed to a three-year term on the Board of Directors for the YWCA Bucks County. In this role, she brings 30 years of experience in the financial industry to help advise and support the YWCA with education, fundraising, public relations, and program development.
Light's passion for eliminating domestic violence in the communities where she lives and works was a strong motivator in accepting the YWCA board position. "The mission of the YWCA resonates with me, and I believe some of my own experiences can serve as wayposts for young women who need guidance, support, and encouragement. I am an advocate for early education and awareness concerning domestic abuse, and especially in helping young girls learn to identify the signs of threatening situations and unhealthy relationships. Our programs include confidence-building and mentorship. Making a difference is what compels me to serve; and as a mother and business leader, I look forward to investing in our next generation of young women," says Light.
"Michele Light embodies Centric Bank's #BeTheDifferenceMaker philosophy by empowering women both in the financial services industry and in her community," says Patricia A. (Patti) Husic, President & CEO of Centric Bank. "Through her community service and support for our Women Centric: Prepared to Lead professional resource, Michele is strengthening the talent pool and building a vital employee and board resource for Pennsylvania."
Light will serve on the Board's Program and Resource Development committees to oversee new programs, and seek diverse and sustainable funding streams to support the YWCA's mission and vision.
"It's extremely important to me to let women in domestic violence situations know they can affect change, and to believe that their voice matters. Many of these women lack family support, so they need to rely on their communities to help them find the resources and confidence to break cycles and improve their situations," says Light. "I'm also working with the YWCA on behalf of Centric Bank to explore additional ways we can give back to these young women."
In 2016, Light was recognized nationally as a member of Centric Bank's "Top Teams" in U.S. Banking by American Banker, and she was nominated for a 2017 Top 10 Women of SBA Lending in the U.S.
ABOUT CENTRIC FINANCIAL CORPORATION AND CENTRIC BANK
A three-time Best Places to Work and named a Top 50 Fastest-Growing Companies for five years, Centric Bank is headquartered in south central Pennsylvania with assets of $525 million and remains the leader in organic loan growth in central Pennsylvania. A locally owned, locally loaned community bank, Centric Bank provides highly competitive and pro-growth financial services to businesses, professionals, individuals, families, and the health care and agricultural industries. Centric Bank was named a Top 100 SBA 7(a) Lender in the United States in 2016 and ranks #2 in approved SBA 7(a) loans in the Commonwealth of Pennsylvania.
Founded in 2007, Pennsylvania-based Centric Bank has financial centers located in Harrisburg, Hershey, Mechanicsburg, and Camp Hill, and loan production offices in Lancaster and suburban Philadelphia. To learn more about Centric Bank, call 717.657.7727 or visit CentricBank.com. Connect with them on Twitter, Facebook, LinkedIn, and Instagram.
Centric Financial Corporation is traded over the counter (OTC-Pink) with the ticker symbol CFCX.
ABOUT YWCA BUCKS COUNTY
The YWCA Bucks County is a nonprofit organization serving women, girls, and families since 1954. The YWCA provides a wide and comprehensive array of educational programming to low-income and vulnerable populations of Bucks County directly in their own neighborhoods and schools The YWCA Bucks County is dedicated to eliminating racism, empowering women and promoting peace, justice, freedom and dignity for all. Donate to the YWCA Bucks County by visiting http://www.ywcabuckscounty.org or by texting "YWCABC" to 243725.
###