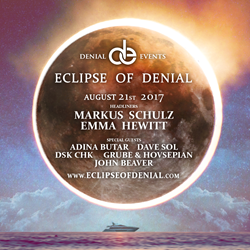 Our revelers are of a particular mindset and they expect and appreciate what we do and the way in which we do it
(PRWEB) August 15, 2017
BOUTIQUE PROMOTER PROVIDES INDULGENT ALTERNATIVES TO FESTIVALS FOR AFFLUENT REVELERS
FOUR LAVISH EXPERIENCES SLATED ACROSS 2017
ECLIPSE OF DENIAL SETS SAIL BY PRIVATE YACHT AUG 21 AND FOLLOWS THE FIRST FULL SOLAR ECLIPSE IN 99 YEARS
There are many ways to party. There are many types of partiers. Festivals are a great way to experience the music and dip ones' toes into the lifestyle, but what if that's not enough? Denial Events has been catering to the perspicacious among us for quite some time, albeit under the radar. This is by design as owner and founder of the luxury brand, Christian Parth not only understands his audience implicitly, but he strictly abides by his creative vision. "Denial is a boutique and very niche brand," Parth states. "Our revelers are of a particular mindset and they expect and appreciate what we do and the way in which we do it."
Perhaps a humble understatement when the scope of events produced by Denial is revealed. No expense is spared to bring Christian and his teams' creative visions to life and, for the chosen ones, an epic adventure awaits. All Denial events are extremely boutique in nature and for this reason, a coveted invitation to receive. Christian caps events at a few hundred to ensure all Denial guests are generously pampered and indulged. "As much as we curate every nuance of the experience; talent, sound, lighting and locations, we make just as much effort to curate our audience. This is because there is a gift in intimacy that we rarely feel these days, and when people are given the privilege to party safely and with a tribe of their own, magic happens." -Christian Parth
Denial is gearing up for their August extravaganza, "Eclipse of Denial", which will take 80 of the most fabulous people across a prime swath of open ocean on August 21st. Departing from Charleston, South Carolina, the captain of this 100-foot luxury yacht has charted the most spectacular oceanic route to view the solar eclipse on planet earth. There has not been a full solar eclipse for 99 years, so Denial knew they had to deliver something equally breathtaking with Eclipse of Denial. Fans will witness this once in a lifetime experience while Markus Schultz provides the musical soundtrack on their collective journey. Emma Hewitt also joins the party and will fill the air with her beautiful and soaring vocals. Emma has something very special planned for the 2-minute eclipse we've also been told! Additional musical support on the adventure provided by Adina Butter and Grube and Hovsepian.
Variety rated Eclipse of Denial as one of their "8 Best Solar Eclipse Music Festivals" in the world. Read the feature here:
http://variety.com/2017/music/news/solar-eclipse-music-festivals-oregon-eclipse-moonfest-moonstock-1202523862/
Denial certainly has cemented their status in the highly competitive niche market of the VIP experience. They don't claim to be for everyone, but for those who seek an elevated escape, they fit just right.
MORE ABOUT DENIAL EVENTS
The Events:
You may end up in Hell, the Matrix or even at a Mental Asylum- all wildly innovative parties that set the stage for Denial's rise. Even event promoter Insomniac, producers of mega-festival EDC, recognized the power of this brand and allowed Denial to orchestrate a lavishly produced, invitation only, party-within-a-party called Denial Island at this year's Electric Daisy Carnival in Las Vegas. Watch it here https://www.facebook.com/flashlifetv/videos/1305181406247645/
Denialites:
Denial guests are exceptionally well-heeled and may best be described as party professionals. Jetsetters without a doubt, these Denialites as they've been lovingly dubbed, have traded in their mundane summers in the Hamptons for something a little more exciting and real. Much in the way a socialite perfects her charity cause, Denialites have perfected the art of the party! Do you have to be wealthy to be one? No, but doesn't hurt either.
On the Horizon
Denial will be throwing events in Jamaica this September and Miami for both Halloween and Art Basel.
The event is sold out, however a handful of VIP packages are still available starting at $1000 per person. Contact info@denialevents.com to inquire.
Media requests to cover "Eclipse of Denial" can be sent to Sara Cooper PR.
Christian Parth is available for interviews.
Sara Cooper PR
hello(at)saracooperpr.com