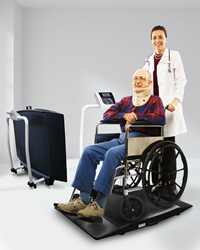 Canton, MA (PRWEB) August 16, 2017
A new, fully portable wheelchair scale that can be easily transported to a patient for easy roll-on weighing and then folds for easy storage is being introduced by Alliance Scale, Inc. of Canton, Massachusetts.
The Alliance/Rice Lake Portable Wheelchair Scale is a mobile patient weighing system that includes a large 29.5" x 32" non-skid platform, two wheels for ease of movement, and folds for easy storage. Featuring a full 1" LCD display, this high-capacity scale lets users manually enter the tare weight of the wheelchair, has a BMI (body mass index function), and reweigh and hold functions along with an EMR-ready RS-232 port.
Providing a 1000 lb. x 0.2 lb. (450 kg x 0.1 kg) capacity with lb. only, kg. only, or lb./kg. functions, the Alliance/Rice Lake Portable Wheelchair Scale has an internal rechargeable battery, includes AC adapter, and updatable firmware. The standard model has one built-in ramp and a single handrail; dual ramp models and dual ramp models with two hand rails and a fold away chair with back rest are also offered.
The Alliance/Rice Lake Portable Wheelchair Scale is priced from $995.00 up. Literature is available upon request.
For more information contact:
Alliance Scale, Inc.
Raymond A. Secour, Jr., Marketing
1020 Turnpike St. / P.O. Box 509
Canton, MA 02021-0509
(800) 343-6802 FAX (781) 828-9510
e-mail: ray [at] alliancescale.com
http://www.alliancescale.com