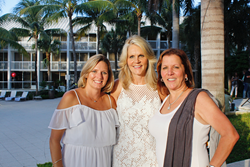 Coral Springs, Fla. (PRWEB) August 15, 2017
Cruise Planners, the nation's largest network of home-based travel professionals, recently hosted the inaugural Luxury Travel Forum in Fort Lauderdale, Fla. The luxury- dedicated event is in reaction to an increase in travelers booking luxury vacations through travel advisors.
"Luxury travel continues to grow and Cruise Planners travel professionals are now even more equipped to plan customized high-end vacations on land and on the sea," said Michelle Fee, CEO and co-founder of Cruise Planners, an American Express Travel Representative. "Luxury travel is the whole package, starting with personalized service a travel professional offers from the very start to the high-end, attentive experience they have throughout their land or sea travels."
At the event, attended by more than 130 Cruise Planners travel professionals, the following travel trends, travel agent first-hand tips and Cruise Planners tools were discussed:

Luxury Sales on the Rise: While the DIY traveler and last-minute penny pinchers are still out there, there - has been an increase in luxury travel sales. In fact, sales for luxury travel is up 35 percent in 2017 compared to the entire year in 2016 within the Cruise Planners network resulting in higher commissions for travel professionals.
Best Practices from Top Producers: A consistent trend throughout the event was to get involved in the luxury community, invest in yourself, experience luxury brands first-hand, and offer personalized service. Overall there is a business opportunity for travel professionals to service clients and be the travel expert for these higher end clients, and the market demands a genuine and customized approach.
Cruise Planners New Luxury E-newsletter: Cruise Planners launched a luxury specific e-newsletter designed to speak to higher-end travelers by focusing on destinations and travel brand value instead of pricing. This new tactic has generated hundreds of new luxury vacations in the short time it has been deployed.
Insightful Demographic Data: Cruise Planners travel professionals now have new big data technology allowing them to track insightful demographic information about their clients. This has propelled additional luxury bookings since the data arms agents with more targeted information to help close high-end sales. Many attending shared how the CP Insights program has made them more successful when targeting clients in the short time since the program launched.
Strategic Partnerships with Luxury Travel Brands: Attendees were able to network with preferred partners with luxury offerings through one-on-one meetings, a robust trade show and interactive panels and presentations.
Confidence to Close the Sale: Echoed through the conference were tips on closing a luxury client including "do not sell with your own wallet" and "don't be afraid to ask for the sale." Some agents are reluctant to ask for a big sale and this forum empowered them with the tools and knowledge they need to be successful in the luxury travel market.
Keynote speaker, Frank J. Del Rio, President and CEO of Norwegian Cruise Line Holdings Ltd. encouraged travel professionals to book higher-end travel because of the dividends. "You can sell one luxury cruise and make the same commission as you would selling ten mass market cruises at ten times the work." He also stressed the perceived value with luxury travel that the travel professional can uncover – especially with more inclusive amenities based on what each guest deems to be luxurious.
Edie Rodriguez, President and CEO of Crystal Cruises, also presented, sharing her vision with attendees regarding all things Crystal and the growth of the luxury segment by land, water and even air with the launch of Crystal AirCruises' first luxury private charter jet, Crystal Syke. Other luxury partner presentations included Regent Seven Seas Cruises, Oceania Cruises, Seabourn, Abercrombie & Kent, Micato Safaris, Tauck, Viking Cruises, Scenic Luxury Cruises & Tours and Marriott International Luxury Brands. Cruise Planners is continuing to develop more upscale training opportunities for travel professionals in order to drive more high-end sales.
"We are committed to the luxury travel segment and know our agents are even more energized to sell high-end travel," Fee said. "Whether they are looking to expand their luxury sales or have been in the luxury segment for years, Cruise Planners travel professionals are focused on luxury travel and are a force to be reckoned with as they collaborate with each other, our industry partners and our Home Office Team."
About Cruise Planners, an American Express Travel Representative:
Cruise Planners, an American Express Travel Representative, is the nation's largest home-based travel agent franchise network in the travel industry. Cruise Planners operates a network of more than 1,800 franchise owners who independently book amazing vacation and travel experiences for their clients. The Florida-based Home Office Team positions a nation-wide network of franchise owners for success by providing innovative marketing, booking and technology tools, as well as professional development and hands-on training with the industry's top executives. The company continues to be lauded and has been named the No.1 travel franchise by Entrepreneur magazine for 14 consecutive years. Cruise Planners was recently featured in Entrepreneur as one of the top 30 franchise innovators in technology, has been consistently named as one of the Top Women-Owned Businesses by the South Florida Business Journal, is on the Inc. 5000 list as one of the fastest-growing private companies in America, has been ranked as the #1 travel franchise by Franchise Business Review for 6 years in a row, and was recognized as one of the Top Workplaces by the Sun Sentinel since it started ranking companies.
Headquartered in Coral Springs, Fla. with more than 22 years of experience, Cruise Planners has achieved top producer status with every major cruise line. Accolades include numerous Magellan Awards from Travel Weekly, American Express Travel Representative Excellence Award for 13 consecutive years (2004-2016), American Express Agency of the Year (2010), Royal Caribbean International Chairman's Award (2015), Royal Caribbean International President's Award for Overall Achievement (2012 and 2014), Royal Caribbean International Home-Based Partner of the Year (2007-2013), Norwegian Cruise Line Elite Agency of the Year (2016), Norwegian Cruise Line Franchise Agency of the Year (2011-2015), Celebrity Cruises Home-Based Partner of the Year (2016), Celebrity Cruises Field Sales Account of the Year (2015), Celebrity Cruises Home-Based Account of the Year (2013-2014) and Celebrity Cruises Southeast Region Travel Agent Partner of the Year (2010), Travel Impressions Best of the Best Globe Award (2008-2016), Sandals Top Host – Worldwide, Globus Family of Brands Premier Agency Partner (2009-2016), Platinum Circle Member with Viking River Cruises (2009-2016), Uniworld Boutique River Cruise Collection Top Producer (2008-2016) and Regent Seven Seas Cruises Top Producer. Cruise Planners is one of the Top 50 franchises for Veterans according to GI magazine, the Top Franchise Brand for Veterans according to Franchise Business Review, has been named one of the Top 25 franchises for African-Americans by Black Enterprise magazine and is a member of the International Gay & Lesbian Travel Association. For more information, visit http://www.cruiseplanners.com.
Stay in Touch: Media can stay up-to-date with Cruise Planners by visiting our media room, following us on Twitter @Cruisitude or on Facebook. For additional information or to make reservations, vacationers should locate a travel advisor near them. For those interested in becoming a franchise owner, please visit the Cruise Planners franchise website.
# # #
Media Contact:
Caitlin Gardner, Director of Public Relations
Cruise Planners, an American Express Travel Representative
CGardner(at)cruiseplanners.com
954-344-8060