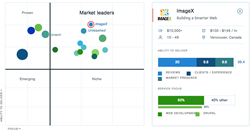 "We've been blown away not only by their expertise, but also their willingness to share it with us." - Tom Kezis - Sr. Account Manager, RESolutionTECH.
(PRWEB) August 16, 2017
ImageX is proud to announce three new client reviews on Clutch.co, maintaining a near flawless client satisfaction score of 4.9/5. After 22 reviews from clients across a variety of sectors, ImageX continues to hold the top spot on Clutch.co in the Drupal Development (Global), Web Design (Canada) and Web Development (Canada) categories.
"I can't say enough about the team of professionals at ImageX," says Brent Wilker, EVP of ImageX. "The feedback I hear most often from our clients is the responsiveness of our team is unparalleled; they feel like we are an extension of their organizations. I can think of no greater compliment for a services business."
Recent client feedback on Clutch.co:
University: "The new site is more visually appealing and functionally reliable than its predecessor. Expert project management and communication skills let ImageX achieve what several other vendors believed impossible."
High-Tech Firm: "The launched site has evoked overwhelmingly positive user feedback, especially concerning the modern design and seamless UX. Convenient access to experienced developers and thoughtful project management make ImageX an ideal partner."
International Non-Profit: "ImageX is impressive because they delivered great quality on time, within our budget, and with no issues or defects at all. It was so easy to work with them. We truly feel like they are a partner. If we ran into an issue, they made it easy for me to trust them."
Read more client feedback on Clutch.co.
About ImageX
Founded in 2001, ImageX is a technology & web agency with a global reach. We've help brands across the world such as Disney, Apple, YMCA, Samsung, Adidas, Adobe and Stanford University architect complex technical solutions and create meaningful digital experiences through user experience, content strategy, stunning visual design and ongoing digital strategy. With offices in Vancouver, Canada, Kyiv, Ukraine and team members throughout North America, ImageX offers 24-hour web support to brands both big and small. To learn more, please visit http://www.imagexmedia.com.
About Clutch
A B2B research firm in the heart of downtown Washington, DC, Clutch connects you with the agencies and software solutions that can help you enhance your business and meet your goals. Our methodology maps agencies and software solutions based on consumer reviews, the type of services offered, and quality of work.