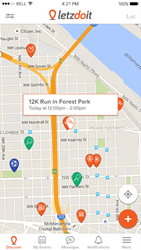 Portland, Oregon (PRWEB) August 28, 2017
LetzDoIt today announces the launch of its real-time activity sharing mobile app for iOS and Android, designed to connect users around the activities they love. LetzDoIt users can instantly create events within a 24-hour window, browse events based on their own interests, invite existing friends or make new ones in their geographic area or when traveling. Introduced by co-founders Mirco Fiaschi and Luca Maraschi, LetzDoIt combines real-time, location-based mobile technology with an AI-driven event platform to provide the first-ever on demand activity sharing app.
LetzDoIt was created with a vision to utilize mobile technology to bring people together face-to-face and form real connections outside of the virtual world. Unlike other event-based platforms, LetzDoIt places a 24-hour cap on creating events to encourage real and timely connections, giving users an easy tool to make the most of their time, whether at home or on the road. Inspired by the co-founders' active lifestyles, and regular business travels, LetzDoIt provides the personalization, spontaneity and immediacy to find a wide variety of activities whenever and wherever.
"We both lead active lifestyles and travel frequently," comments Fiaschi, "but found that most apps designed to spur social interaction just don't deliver. There's a disconnect in many of these Meetup-style platforms between signing up and showing up. That's why LetzDoIt focuses on quick, simple connections that you can set up in real-time, allowing for spontaneous activities that match your mood and schedule."
To accommodate a wide variety of uses, LetzDoIt includes a robust set of personalization features. Users can set their own privacy options for each event, setting visibility to friends, extended networks (friends-of-friends) or to all other users with shared interests. Further customization options include filters for different types of activities, skill level, age range and more. LetzDoIt leverages advanced technologies in AI and mobile development to deliver personalized event suggestions based on user preferences. The platform also integrates venue information from various APIs including Google Places, Foursquare and Yelp, providing an easy event setup process for users.
"The technology built into the LetzDoIt platform provides users with a personal activities concierge right in their pocket," said Maraschi. "The strategic fusion of AI with a detailed personal profile creates a social network, catered to your specific interests and favorite activities. As we continue to build the platform from its initial launch stage, this recommendation engine will allow users to connect over the activities they love and discover new ones as well."
LetzDoIt is free to download and is currently available for Android and iOS mobile devices. For more information, please visit: http://www.letzdoitapp.com/
About LetzDoIt
LetzDoIt is the world's first dedicated real-time activity sharing platform making face-to-face connections based on the activities people love. Users can create or search activities within a 24-hour window ranging from fitness to food, from coffee to concerts, and participate whenever they choose. LetzDoIt is available for free download on Android and iOS mobile devices. For more information, please visit: http://www.letzdoitapp.com/
.
For more information, please contact:
Josh Payne
Matter
letzdoit(at)matternow.com
971.245.3081