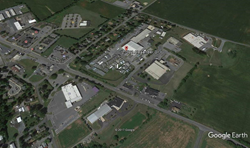 Blue Ball, PA (PRWEB) August 15, 2017
"Our business has grown significantly in the past 5 years, and this acquisition allows us to expand our product lines while building more efficiently," said Travis Eby, President of M.H. Eby. "It provides the opportunity to bring all of our PA manufacturing operations under one roof, and gives us additional room to grow."
Eby currently operates two production facilities in Lancaster County, PA: the company's headquarters in Blue Ball and a satellite plant one mile away in the Earland Industrial Park. The Earland facility was established in 2014 and enabled Eby to expand its fabrication, truck body assembly, and equipment trailer assembly operations. In addition to being Eby's headquarters since 1984, the Blue Ball facility houses aluminum trailer manufacturing, retail sales, and parts and service.
"Shortly after we moved into the Earland facility, we decided that our growth plans were pointing in the direction of a much larger, single facility," Travis Eby continued. The transition to the new plant allows Eby, which operates 7 manufacturing and service facilities in 5 states, to accomplish a number of goals in a single move.
The Earland facility will be phased out over the next year, as equipment is moved to the Ephrata plant. The current headquarters will be retained and serve as an expanded parts and service office, along with housing a sales force concentrating on serving customers in southeastern Pennsylvania and surrounding areas. All PA manufacturing for Eby will be consolidated in the Ephrata facility.
The new facility is located at 502 Alexander Drive in Ephrata. "The layout of the plant will work well for our operations," said Gary Musselman, head of manufacturing in PA for Eby. "We have ample room for warehousing material, and our fabrication assets will feed the manufacturing lines smoothly and efficiently. We also have plenty of space surrounding the plant for chassis storage and parking, which has often been a challenge as we've grown."
Staging of materials and rigging for fabrication and assembly equipment at the Ephrata facility will begin immediately. For additional information, please contact M.H. Eby at 717-354-4971 or look for updates at http://www.mheby.com.
About M.H. EBY
M.H. Eby is a designs, builds, sells, and services all-aluminum trailers and truck bodies to customers in the agricultural, commercial, and industrial markets. Founded in 1938, Eby is a family owned company operating 4 manufacturing plants and 6 service centers in PA, OH, IN, IA, and SD. The company's products include equipment trailers, livestock trailers, utility trailers, a diverse line of truck bodies, and a wide range of custom products.