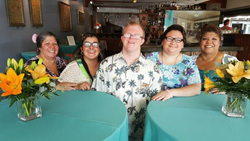 MONTCLAIR, Calif. (PRWEB) August 14, 2017
Thanks to Monday night's successful charity auction and fundraiser, Anthesis, formerly the Pomona Valley Workshop, will be able to better serve Southern California's intellectually and developmentally disabled adult population. Proceeds from the event will help purchase a new passenger van, used to transport teams of skilled, disabled workers and their coaches to jobs at local business partners.
The fundraiser, held at Union on Yale in Claremont, brought in more than $58,500 for the charitable organization, with additional donations expected in the coming days.
"We've already exceeded our initial goal," said Anthesis executive director Mitch Gariador. "Honestly, we were shocked with the result; this is phenomenal for us."
Anthesis serves over 300 disabled adults in eastern Los Angeles and western San Bernardino counties. A core part of its mission features inclusive workforce partnerships, providing disabled adults with employment opportunities at local businesses.
The fundraiser's goal was to replace an aging vehicle in Anthesis's fleet of passenger vans. The oldest, most decrepit member of that fleet was parked outside Union on Yale during the fundraiser. Now, that van is headed to the scrap heap, to be replaced with a new model.
The event was hosted and organized by one of Anthesis's local business partners: FSC Lighting.
"Our team from Anthesis is a critical part of our workforce," said John Watkins, president of FSC Lighting. "They give so much to us; we're always looking for opportunities to give back to them."
More than 110 guests attended Monday's event, with major corporate sponsorship coming from FSC Lighting, Walters Wholesale Electric, OpTerra Energy Services, KSA Lighting & Controls and Performance Lighting Systems.
"It was really impressive how generous FSC's customers and vendors were, as well as all of the local community members were," said John Watkins.
In addition to raising critical funding, the event served as a celebration of Anthesis's name change, which went into effect in July. Since its founding in 1966, the organization had been known as the Pomona Valley Workshop. The change was driven by the organization's evolving mission and services.
"Today we operate four employment programs, and we're about to launch a fifth," said Gariador. "Only one of those programs is an actual 'workshop.'"
The organization's other programs place workers in teams at local businesses, on premises throughout the Inland Empire. The word "Anthesis" refers to a flower at its most productive and beautiful stage.
The fundraiser was promoted as Anthesis's "first annual" event, and preparations are already underway for next year's celebrations. For more information, or to find out how you can become involved, visit Anthesis.us.
###
About Anthesis
Founded in 1966 as the Pomona Valley Workshop (PVW), Anthesis serves about 300 individuals per year in both facility and community-based programing. Anthesis partners with local businesses to provide employment opportunities for developmentally and intellectually disabled adults. For our local business partners, Anthesis provides skilled employee placement, contract labor, contract packaging and assembly, and temporary and seasonal employment services. For adults with disabilities, Anthesis provides satisfying and productive paid work opportunities, employment training and day programs in our adult development center.
Learn More: http://anthesis.us/
Donations to support Anthesis can be made by check or by credit card via http://anthesis.us.
About FSC Lighting
Founded in 1969, FSC is an energy-efficient lighting manufacturer that believes in going beyond efficiency. At its headquarters in Rancho Cucamonga, California, the company manufactures and assembles a range of commercial and industrial energy-efficient lighting solutions. The company goes beyond efficiency with comprehensive product support, fast and affordable customization, easy lighting controls integration and application-specific lighting solutions.
FSC's "Made With Care" program integrates teams of developmentally disabled adults into the assembly and testing processes through a partnership with Anthesis.
Learn More: http://fsclighting.com