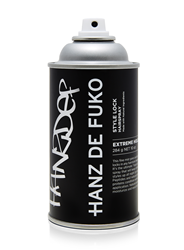 Los Angeles, CA (PRWEB) August 15, 2017
Renowned grooming line, Hanz de Fuko, is unveiling their latest product today that's been three years in the making, Style-Lock, a plant-based ingredient extreme hold hairspray. The groundbreaking formula has proven to immediately lock in any hairstyle left to the artists' imagination all-day or nightlong. In addition to Style-Locks capabilities to condition and stimulate hair growth with key ingredients mallow flower and horsetail extracts, it also locks in moisture with sunflower oil. Apple fruit extract is infused to help fight the signs of aging hair, while lemon peel and burdock root extracts fight dandruff. Some key successes of Style-Lock are that it goes on dry while allowing easy brushing without flaking, and immediately locks in any hairstyle imaginable, providing hold all day.
According to co-founder, David Alfonso, "What makes Style-Lock unique is that it's made from plant–based ingredients, offering the best hold for any hairstyle desired." And co-founder, Christopher Zent also says that, "Besides releasing a product made from environmentally conscious ingredients, is also a product that reflects the spirit of our company, which is a label for the people, by the people."
The inspiration for Style-Lock is based on Hanz de Fuko's core beliefs as a brand, which celebrates individuality, self-expression, and artistic appeal. As a company that started in 2009 in San Francisco's Mission District, the brand has always been inspired by customers that let their "freak flags" fly. Hanz de Fuko believes that customers are the heart and soul of their product line, and encourages its base to resist conformity. The design of Style-Lock, which includes a can of spray paint, is more than a graffiti–based instrument, as it represents artistic expression. The sleek design doesn't need to be hidden in your cabinet like many gaudy products. When one sees this can sitting on a bathroom counter, it's meant to be a symbol of ones self-expression, having no apologies or regrets for representing one's own personal style.
The quantity of each can contains 9oz. (284g), and ingredients include an innovative blend of resin and transformers delivering a strong, long lasting hold. Peptides and natural plant proteins condition with every application, and natural extracts will moisturize and resist humidity.
About Hanz de Fuko:
In 2009, Hanz de Fuko revolutionized men's grooming with high-quality products that spoke to creative individualism and self-expression. Based around the gritty subculture of San Francisco's Mission District, the product line would soon blossom into the world's most celebrated men's hair care brand. Hanz de Fuko continues to redefine masculine ideals with organic and plant-based ingredients for fearless self-care. All Hanz de Fuko products are available EXCLUSIVELY at http://hanzdefuko.com.