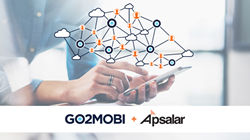 "This seamless integration with our DSP equips marketers using Apsalar's cloud to take things further - from analysis to live campaigns. Marketers can re-engage their dormant audiences to generate post-install activities." - Grant Storry, VP of Product
VICTORIA, BC (PRWEB) August 15, 2017
Customers of Apsalar's Mobile Marketing Cloud received exciting news today as Go2mobi, a mobile-first advertising platform, announced its latest integration with the mobile analytics company. The integration gives Apsalar's customers the ability to segment their mobile app users into audiences for easy re-engagement campaigns. Marketers can push this data to Go2mobi to run mobile programmatic re-engagement campaigns that retarget these audiences across its network of tens of thousands of publishers.
Retargeting campaigns have a distinct advantage over more passive tools, such as email, as they allow advertisers to display highly relevant ads to dormant or abandoned users as they navigate across their favourite mobile apps. Go2mobi is on a mission to make life easier for advertising and marketing clients.
Apsalar customers are among the first to see how effective these data-driven, fully optimized retargeting campaigns run on Go2mobi can be. After a quick import of their audience's DeviceIDs, advertisers can effortlessly set up multiple retargeting campaigns within minutes on Go2mobi's DSP platform. Advertisers have a distinct advantage with Go2mobi as they can target up to one million unique DeviceIDs and have access to its expansive network of publishers. Combining this with Go2mobi's proprietary targeting features and flexible API, customers are equipped to execute cost-efficient campaigns while seeing strong return-on-ad-spends.
"This seamless integration with our DSP equips marketers using Apsalar's cloud to take things further - from analysis to live campaigns. Marketers can re-engage their dormant audiences to generate post-install activities. With our platforms coming together, it's a no brainer for marketers to run ad campaigns on our platform", says Go2mobi's VP of Product, Grant Storry.
About Go2mobi: Go2mobi is a mobile-first advertising platform that helps agencies, brands, trading desks, and app marketers reach the specific mobile audience segments that drive performance and ROI. Go2mobi's first party, mobile-originated data management platform combines with their real-time MomentMatch™ technology to help brands and agencies target their ideal audiences in the specific moments that drive engagement and conversion. Go2mobi continues to wow the world's biggest brands and agencies with their innovative platform, unparalleled commitment to customer service, and ability to target, report and optimize on a campaign's most granular data points.
About Apsalar: At Apsalar, our mission is to help app business leaders make the most of their marketing investments. To drive more effective UA, engagement and monetization through data-driven marketing. We help many of the world's largest mcommerce players drive the revenue and long-term customer relationships they need. Apsalar Mobile Marketing Cloud provides both essential business and user insights along with audience tools to power customized, data-driven marketing. Use the insights and audiences from our integrated mobile marketing suite to address your app's biggest growth opportunities. Learn more about Apsalar at: https://apsalar.com/