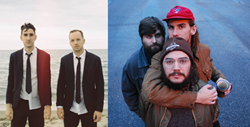 Fairfield, CT (PRWEB) August 15, 2017
On Monday, Aug. 21, the Brody Wilkinson Emerging Artist Series returns to Fairfield Theatre Company's StageOne to feature two up and coming artists from the Athens, Ga. music scene, Easter Island and Oak House. Both indie bands are grounded in the local musical history of Georgia.
Chris Frantz, founder of the Talking Heads and Tom Tom Club and one of the curators of the emerging artist series, recently interviewed members of Easter Island and Oak House to learn more about their roots, influences, and connection to the legendary Athens music scene.
Q: How is the music scene in Athens these days? Is there a particular venue where things are happening?
A: (Easter Island) The Athens music scene is ever evolving, as Athens is a transient college town, and is always springing to life in new ways. In that sense, there is no particular venue that can claim its own scene. There is so much music happening here that you can go out any night of the week, any day of the year, and you might hear something that will change your life. As long as Athens remains an affordable city, it will always be a hotbed for creativity, as well as a launching pad for aspiring bands.
Q: Do you have any connection or friendship with Cindy Wilson of the B-52s?
A: (Easter Island) I have personally known Cindy since around 2009. I had originally met her playing a Beatles cover show for her son's 10th birthday party (he was obsessed with George Harrison at the time). She was so impressed that she asked the band to come back to play at her Halloween party that same year and to let her sing a couple tunes. She sang a version of "I Put A Spell On You" that gave everyone chills (including myself). The rest, as they say, was history. Our first show was part of a sold out event at The Melting Point in Athens for R.E.M.'s 30th anniversary. In the years following, we played several gigs around Athens and Atlanta - mostly just messing around and playing 60s psych covers. At one point we got to play "Love Shack" at the Chastain Amphitheater and [B-52s frontman] Fred [Schneider] joined us on stage. It was a pretty surreal moment for me given that the song was released when I was all but 5 years old.
When it came time to get serious, Cindy and I started writing original material in 2014, for what would eventually become our full-length release. After three years of hard work, we recently signed with Kill Rock Stars, and couldn't be happier to be working with them. The record will be released in November, and we plan to do extensive touring nationally to support its release.
Q: What is one of your sources of inspiration? Do you have any musical mentors?
A: (Easter Island) At the moment I'm really enjoying minimalist ambient piano music - Nils Frahm and Max Richter come to mind. I think these influences have definitely made their way onto the Easter Island record. I've always loved repetition in music, and the trance-like state that it can induce. I can get just as lost in a hip-hop groove as I can a Krautrock tune, or a Phillip Glass ostinato. It's all the same to me - the compositional intent is the same. At the moment, I'm reading a book called "The More Beautiful World Our Hearts Know is Possible" by Charles Eisenstein. While I'm only on about page 100, I'm pretty sure that it's the most important book that I've ever read in my life.
(Oak House) Songwriting usually spawns from reading, listening to classical music or thinking too much (or too little). There is so little chance of originality in music that I try to access nothing during the composition and recording process. Of course, I fail and it sounds like poor. My parents are both inspiring musicians and excellent mentors.
Q: Do you have many young people at your shows, and how do you attract them?
A: (Easter Island) We play an incredible version of Kanye's "Runaway," so I'm pretty sure that's helped to appeal to the "youngins." Athens is a young city, so I think that we attract a younger crowd by default - though generally, I like to think that good music can transcend age! In my opinion, I think that the music industry tends to be pretty youth-obsessed - that's an area that I'd like to see the industry change a bit!
Join Chris Frantz, Tina Weymouth and record producer Peter Katis for Easter Island and Oak House's Connecticut debut on Monday, Aug. 21.
Tickets, information, and samples of the music can be found at Fairfieldtheatre.org
About Fairfield Theatre Company:
Fairfield Theatre Company is a highly-acclaimed non-profit performing arts organization located in the heart of downtown Fairfield. FTC presents over 300 concerts and events each year featuring outstanding national talent at FTC's StageOne and at The Warehouse. FTC's venues are widely recognized as being the best places to see live performances in the region. FTC's mission is to connect and enrich the community through the transforming power of the arts. For more information, go to fairfieldtheatre.org.