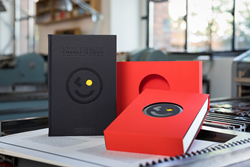 We want to make the best reading experience possible today — a state of the art book that is also a piece of art.
San Francisco, CA (PRWEB) August 15, 2017
Today Louis Rossetto, co-founder of Wired magazine, launched a crowdfunding campaign for Change is Good, a novel and a collaborative art project with designer and typographer Erik Spiekermann. It is available as a collector's first edition of 1,000 numbered copies exclusively on Kickstarter starting at $98 USD.
Under Rossetto's leadership in the 1990s, Wired was the first magazine to focus on the people, companies, and ideas shaping the Digital Revolution. Wired also helped start the web media when it launched Hotwired, the first website with Fortune 500 advertising and original content. Hotwired actually invented the banner ad.
Uniquely positioned to tell the story of this time, Rossetto sets his in January 1998 in San Francisco, as five idealistic GenXers (and one Millennial) pursue their adventures in the Digital Revolution precisely at the moment it's mutating into the orgy of the Dotcom Bubble.
"What we now take for granted, was then just a dream," said Rossetto. "In the '90s, young people came to San Francisco with fire in their eyes, big ideas in their heads, and passion in their hearts to make change happen. It was a time of possibility and risk. The future was unknown. There was no map. There was only frontier. Those pioneers faced a world full of uncertainty and insurmountable opportunity. It's especially important today that we connect to that pioneer spirit."
Louis wanted his novel to be the best possible reading experience, so he turned to Spiekermann, who coincidentally was developing new technology to revolutionize letterpress printing. Change is Good is the first book of its kind to be designed and printed with Erik's Post Digital Printing process. Spiekermann will be printing the book on his own classic Heidelberg presses at his p98a Berlin digital/analog lab in Berlin.
Spiekermann spent two years developing a laser platemaker that brings direct-to-plate technology to letterpress. For the first time, designers can marry the power of modern digital tools to the superior quality of letterpress printing by going direct from screen to letterpress plate without film intermediaries — like they can with lower quality offset and digital.
"We love print. It's still the best medium for reading complex ideas and long stories. We love its physicality, its sensuality," continued Rossetto. "We want to make the best reading experience possible today — a state of the art book that is also a piece of art."
Unlike offset, letterpress can achieve true black and the type is sharp, because it directly imprints the paper. This leaves a faint impression on the paper that catches a subtle shadow and adds character to the printed page.
""This is a story of how the digital entered and changed our world," said Spiekermann. "But, as analog humans, Louis and I thought it appropriate (if a little ironic) to use traditional technology – which itself was considered revolutionary at its time – to make an old-fashioned book."
The Change is Good campaign will run from August 15 to September 15, 2017. For a full rundown of the pledge levels visit their Kickstarter page. Media wishing to interview their personnel should contact PR agent, Allison Aitken at +1 (514) 703-4989.