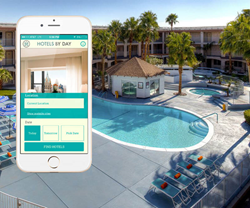 Yannis Moati, HotelsByDay founder and CEO, says, "We saw traffic to our site grow 1300% in the first month after we originally aired on Shark Tank.
New York, NY (PRWEB) August 15, 2017
HotelsByDay, a popular hotel booking site that allows guests to reserve a day stay around the country, has an enviable startup problem: It's demand is outpacing the supply. Since being featured on ABC's popular show Shark TankTM in February, there followed a surge in travelers wanting to book day-use hotel rooms. Since the episode reran this summer, the demand for day-room bookings via the service has exceeded the inventory currently available on the website and app. HotelsByDay is inviting savvy hoteliers to seize on this opportunity to broaden their customer base while improving their bottom line.
With HotelsByDay, travelers can book morning, midday, or afternoon hotel stays, generally between 9:00 a.m. and 6:00p.m., at discounted day-rates. Yannis Moati, HotelsByDay founder and CEO, says, "We saw traffic to our site grow 1300% in the first month after we originally aired on Shark Tank. Sales grew almost immediately as well, to a boost of 43% in the following weeks, then subsided a bit. After our second airing in July, traffic ticked up 600% and is continuing to grow. Booking sales are in record territory. It's really quite amazing the effect the show has on consumer awareness of our site."
While this is great news for the tech-based startup, it's even greater news for hoteliers. Getting unused hotel rooms sold during daytime hours has never been easier. With just a few clicks, hotels can take advantage of capitalizing on previously untapped revenue. Hotel owners and general managers can sign up on the website. HotelsByDay does the rest. The web-based service benefits hoteliers by providing technology and easy protocols to set-up different time bands for check-in/check-out and hotel stays, making it easier for hotels to seamlessly monetize idle day-inventory, increase revenues, better manage their check-in flows, and increase brand exposure to travelers.
HotelsByDay has hotels in most major U.S. cities including New York, Los Angeles, San Francisco, Miami, Chicago, Boston, Washington DC, Phoenix, Houston, as well as Toronto and London. However, the demand for hotel partners in these key markets, and across the country, continues to grow. HotelsByDay has signed up 280 new hotels since the February airing, but that is not nearly enough. Travelers from all walks of life, particularly Millennials, are seeking customized experiences.
With a Google Review average of 4.5 stars and many repeat customers, hotels not currently signed up with HotelsByDay are missing an opportunity to increase their revenues. From national chain properties to smaller boutique establishments, HotelsByDay has guests at the ready. Every hotel that wants to be associated with a reputable booking platform and easily improve their financial margins should join today. Referring to this article will grant you a free trial month.
For more information, visit http://www.hotelsbyday.com.
HotelsByDay was founded in 2015 and is the leading domestic day-use hotel-booking website where travelers can reserve elegant, conveniently-located hotel rooms at competitive prices in major cities across the United States-- for the day. The company has recently been featured in GOOP, Travel and Leisure, NBC and the Boston Globe and is seeing exponential growth in both customer use and hotel partnerships all over the country.