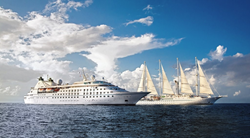 It's been a year since we launched Star Promise and we are seeing overwhelmingly positive results. Every day I hear from one of our valued travel agent partners about how a particular initiative has helped them.
SEATTLE, WA (PRWEB) August 14, 2017
Small ship cruise line Windstar Cruises made a promise to the travel agent community in 2016 with a new program aptly named "Star Promise." The agent-centric initiative was thoughtfully developed to set Windstar on the course to be the best travel agent partner in the industry for small ship cruising.
The Star Promise initiative revolves around four cornerstones of delivery: an Extraordinary Guest Experience for travel agents' clients; Fresh Sales Tools and Support to help travel agents build their Windstar business; Outstanding Educational Programs for both veteran Windstar agents and agents new to selling Windstar; and Excellent Agent Service every day, every interaction, every reservation. Star Promise also gives Windstar an internal stake in the ground emphasizing its company-wide commitment to travel agents and the value they bring to cruise commerce.
Results for Star Promise show that Windstar has been successful at making travel agents' jobs easier to sell and manage client cruise vacations on the line's six small ships. Marked improvements on all fronts have contributed to the success, including executive-level commitment to putting agents first; expansion to global deployment with new cruise destinations including Asia, Alaska, and Canada / New England; and 24/7 agent access to book and manage reservations through a new online booking engine.
"It's been a year since we launched Star Promise and we are seeing overwhelmingly positive results. Every day I hear from one of our valued travel agent partners about how a particular initiative has helped them increase their Windstar sales as well as grow their business overall," said Windstar Vice President of Sales Steve Simao, CTC. "We've worked hard to deliver on our promises in the past year and I can confidently say we have delivered! Going forward we will continue to use our promises as a guiding principal and we will continue to seek out agent input. We want to be travel agents' #1 small ship cruise line of choice."
Windstar seeks travel agent feedback regularly on how the upscale line is performing for travel agents and how the Star Promise initiative is helping drive business. Anecdotal evidence points to a healthy and growing relationship.
Group business has doubled under the new program, and agents are excited and motivated by the new online booking tools, namely Windstar's redesigned and easy-to-use Agent Hub. The hub serves as a convenient one-stop-shop for sales promotions, company news, training tools, and other resources, as well as provides access to bookWindstar Online, the brand-new booking tool for agents available 24/7.
As a small ship line, Windstar's talent base is a critical component to success with the travel trade and the company continues to invest in top talent to help travel agents build their business. Recently the line announced the appointment of cruise and travel industry veteran of nearly forty years, George Howell, as Senior Director of Guest Services. Howell's in-depth knowledge of the industry and first-hand experience as a front-line travel agent and travel agency and wholesale travel manager allows him to best understand the specialized service needs of agents selling upscale travel, recognizing trends on the horizon to create fluid and flourishing business for agents.
Along with Windstar President John Delaney, Simao, Howell and their teams of more than 60 dedicated and experienced sales and service staff are more dedicated than ever to the Star Promise commitment to travel agents, and to making Windstar the supplier of choice in global small ship cruising.
Windstar has delivered on the following Star Promises:

Windstar promises an extraordinary guest experience and has delivered with a popular James Beard Foundation Culinary Cruise Collection themed program and exclusive cruise partnership. The line has also announced new cruise destinations including Asia, Alaska, Canada, and New England and is focused on opening bookings for all destinations further out so agents and their clients can plan ahead. In addition, Windstar noticed a number of its guests were booking back-to-back cruises and as a result, introduced new Star Collector voyages to allow agents to more easily book back-to-back clients. Complimentary daily laundry on all sailings is a welcome bonus to help close a sale.
Windstar promises fresh sales tools, which rolled out via the redesigned Agent Hub, and launched a new Star Groups program, which has been wildly popular. The Star Groups program has offered a variety of benefits including increased discounts and a new, more profitable tour conductor policy of 1:7 or 1:9, depending on dates, which is incredibly low (i.e. beneficial for customers/agents) when compared across the industry. Beyond groups, when agents include Windstar in their marketing programs, they receive an exclusive value-added offer in the form of a shipboard credit for the agency. Windstar Sales also launched a Facebook page dedicated to travel agent news and engagement.
Windstar promises educational programs and launched a refreshed and updated online Star Specialist travel agent training program, which has made it easier to find out more about Windstar and is offering more webinars allowing agents to keep current on the brand as well as interact with senior management. The company launched new FAM experiences on board with more than 500 travel professionals taking advantage in the last year. There's also Trade Winds, a new agent newsletter covering a variety of Windstar news including selling tips and product news developed specifically for the agent audience.
Most notably, Windstar promises excellent and robust service on all business as demonstrated by the addition of former travel agent and agency head George Howell to head up our Guest Services division. And the most significant development in terms of travel agent service has been in the form of launching bookWindstar Online, a new online booking tool that allows agents to make and access bookings in real time, at any time.
"bookWindstar Online is the tool that agents asked for most prior to Star Promise, and agents are loving this innovation most of all," says Simao. "We're currently offering an incentive program for bookings made online through the end of September to encourage agents to become familiar with the new online booking engine. Now is the perfect time for travel agents who have been intrigued by the abundant and profitable opportunities in small ship cruising, and wanted to work with Windstar, to check us out — we promise they will be glad they did!"
Travel Agent Jennifer Puga of The Itinerary Artists recently took Windstar's new Star Specialist online training program and gave it five stars, saying, "The refreshed course is much better and highly informative, thanks!"
Stacey Triesch of Century Travel who sailed on a hosted Windstar Travel Agent Familiarization trip shared, "The staff was so very kind and gracious. The food was amazing! The tours were interesting and well executed. Our suite was so lovely… everything was honestly perfect. I really look forward to getting clients on board and know that I will have many who would be a great fit."
Travel agents are encouraged to visit Windstar's Agent Hub to sign up for the Trade Winds e-newsletter, gain access to various training tools, follow Windstar Sales on Facebook, and take advantage of the new online booking engine at https://agenthub.windstarcruises.com.