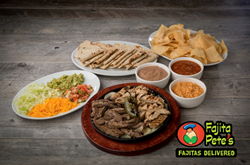 Houston, Texas (PRWEB) August 14, 2017
Fajita Pete's, a highly successful Houston-based Mexican restaurant, anticipates their newest locations in Cypress and Sienna Plantation late this fall. As the grand openings approach, plans for their tenth and eleventh locations are progressing in the rapidly growing Midtown area next to downtown Houston, while Dallas can look forward to their second location. At this rate, Fajita Pete's stays right on target to meet their goal of expanding to 40 locations in the next three to five years.
"This next wave of store openings excites and humbles me in many ways. It is another important step in our ultimate goal of growing our little brand into a household name. We are by no means there, but we are proud of our progress. We couldn't do this without the constant support of our local communities that are catching on to our home delivery, and our amazing Houston business community that has constantly bolstered our catering sales," Founder Pete Mora.
Fajita Pete's is a profitable, streamlined, "fresh off the grill" fajita concept focusing on high quality, homemade menu items that are available for catering, pickup, delivery, dine-in. The restaurant's made-from-scratch model has proven itself to be an attractive, fresh alternative to pizza and Chinese-food delivery.
A typical store ranges from 1,300 to 1,800 square feet. This size of a location is ideal considering over 90 percent of franchisees' revenue comes from orders not eaten on site. Fajita Pete's small footprint allows it to be in the heart of desirable areas while keeping operating costs low. Currently, Fajita Pete's has seven locations throughout Houston and Dallas.
Fajita Pete's franchise business strategy includes participation in a system-wide marketing plan. Excellent support is provided from the beginning concept throughout launch and startup. Franchisees can expect assistance with site selection, lease negotiations, construction, training, operations, marketing, new product development and more. Fajita Pete's franchise fee is $25,000 with royalties of 5.5% of gross sales, plus 1% and up to 3% for marketing and operating capital. Add this all up, and your total initial investment can range from $150,000 to $375,000.
To apply for a Fajita Pete's franchise program visit: http://www.fajitapetes.com/franchises/.
About Fajita Pete's:
Fajita Pete's is a Houston-based Mexican restaurant that offers fresh, made-from-scratch beef and chicken fajitas and sides for delivery, pickup, catering, and dining-in. Founder Pete Mora opened his first restaurant in 2002 and soon received catering requests from local companies. Envisioning a better way to fill a growing niche, he closed his successful restaurant after five years to focus on the catering and delivery model that became Fajita Pete's.
For more information, visit: http://www.fajitapetes.com/
Check-out these videos: https://youtu.be/0d4dDlU16_o or https://youtu.be/JtbD9Vec_w4