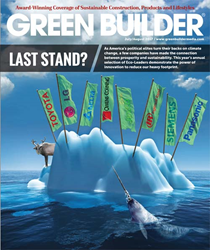 Lake City, CO (PRWEB) August 15, 2017
As America's political elites turn their backs on climate change, a few companies have made the connection between prosperity and sustainability. Green Builder's annual selection of Eco-Leaders (http://www.greenbuildermedia.com/green-builder-magazine-july-august-issue-2017) demonstrate the power of innovation to reduce our heavy footprint.
Also featured in this issue:

A Healthy Approach. More customers than ever want green houses that promote their well-being and the environment.
Going Green by Growing Green. Five things to keep in mind as you try to attract investors to an energy-efficient project.
Flex House: Show Stealer. At PCBC in San Diego, The Flex House's compact, innovative design made it the toast of the show.
Plus, articles on Smart Cities, Energy Solutions, Codes and more.
About Green Builder Media
Green Builder® Media, LLC is the nation's leading media company focused on green building and sustainable living, affecting positive change by providing inspirational information to over 200,000 progressive building professionals and 38 million consumers who are interested in sustainable living. With a comprehensive suite of content marketing, digital, social, and print media options, high-profile demonstration projects, market research, and live events, Green Builder Media offers a blend of visionary and practical information covering a broad spectrum of sustainable living topics, including Internet of Things, smart home technologies, energy efficiency, water conservation, indoor air quality, resilient housing, renewables and clean transportation. For more information, visit http://www.greenbuildermedia.com.