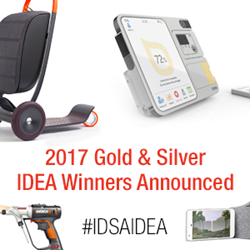 I hope you're as excited as we are by the future of design excellence on display.
Atlanta, GA (PRWEB) August 21, 2017
The Industrial Designers Society of America (IDSA) hosted the 37th annual International Design Excellence Awards (IDSA IDEA®) 2017 Ceremony and Gala on Aug. 19, 2017 in Atlanta, GA—revealing which 25 designs won Gold and which 52 designs won Silver in one of the world's most prestigious and rigorous design competitions. See all the winners at http://www.idsa.org/awards/idea/gallery.
"I hope you're as excited as we are by the future of design excellence on display," declared IDSA IDEA 2017 Jury Chair Owen Foster, IDSA, at the red carpet event at the Woodruff Arts Center's Rich Theatre. "It's an honor to present these awards to the winners and to celebrate design excellence with all of you. It's no small task to judge designs submitted by peers from around the world. I'd like to thank my fellow jurors for their hard work."
Foster led more than two dozen, global design experts in judging categories covering products, experiences, strategies and more—including two new categories this year: consumer technology and branding. Onsite jurying was held in May at the newly-renamed Henry Ford Museum of American Innovation in Dearborn, MI.
IDEA 2017 attracted hundreds of entries from 54 countries on six continents. "We had representation from all over the world," said IDSA Board of Directors Chair Emeritus John Barratt, president and CEO of TEAGUE. "The level of competition is extreme. It's an incredible achievement to win."
Bronze winners were announced on June 29, while Gold and Silver winners were announced by Foster—and The Henry Ford's Chief Curator and IDEA 2017 Juror Marc Greuther—at the ceremony on Aug. 19.
Here are the special award winners:
•Best in Show Award: Microsoft HoloLens by Microsoft Device Design is touted as the first, self-contained, untethered holographic computer that embeds content and applications into physical surroundings to see, place and interact as if holograms are part of the physical world. This mixed reality is enabling new ways to create, communicate, work and play.
•Curator's Choice Award, chosen by Greuther: Dream Ring Concept by havas X IDEAfree is an inexpensive, eco-friendly, feminine hygiene product initially designed for use in developing countries where girls may give up going to school because they don't have access to affordable and sanitary menstruation pads.
•Chair's Award, chosen by Foster: Sai Flatpack Furniture, by Mathew Simon of ArtCenter College of Design and Ayuri Tsunoda of Tama Art University, is an infinitely expandable collection of sustainable furniture—handmade of bungee cords and plywood frames to create value for artisans.
•Plastics Innovation Award, chosen by sponsor Plastics Industry Association: Makeblock Neurons by IU+ Design and Makeblock Co., Ltd. is a programmable, electronic building-block platform for STEM education and practice. With an intuitive app, Makeblock Neurons enable users of all programming levels to build gadgets with ease.
•People's Choice Award, voted online by the public: MATCHER - Shopping eXperience Innovation by Matcher Service for Samsung SDS is an automatic shopping recommendation service that matches an item to a customer's needs through optimization algorithms known as prescriptive analytics.
The IDEA 2017 Gold winners are:
—Automotive and Transportation:
Scooter for Life – PriestmanGoode for The Design Museum, London
—Branding:
29CM Brand Experience Design Renewal – Plus X
—Children's Products:
Makeblock Neurons – IU+ Design and Makeblock Co., Ltd.
—Commercial & Industrial:
SENSORO Alpha Base Station – Sensoro Co., Ltd.
—Consumer Technology:
Daydream View – Google
Google Home – Google
Logitech K780: Multi-Device Wireless Keyboard – Feiz Design Studio and Logitech Design
Mi MIX – Xiaomi Communications Co., Ltd.
Microsoft HoloLens – Microsoft Device Design
Microsoft Surface Studio – Microsoft
—Digital Interaction:
Microsoft Surface Dial – Microsoft
—Entertainment:
Poputar P1 – Shenzhen Culture Technology Co., Ltd.
Q9 QLED TV – Samsung Electronics Co., Ltd.
—Environments:
adidas Originals SNKR Exhibition: No Second Guessing – URBANTAINER for adidas Korea
—Home & Bath:
FlexWash™ + FlexDry™ – Samsung Electronics Co., Ltd.
WORX Switchdriver – Positec Tool Group
—Kitchen & Accessories:
STANCE – Kohler
—Medical & Health:
VECTRA WB360 3D Whole Body Imaging System – HS Design, Inc. for Canfield Scientific
—Outdoor & Garden:
Everdure by Heston Blumenthal Charcoal & Gas Barbeque Ranges – Heston Blumenthal and Design + Industry for Everdure
—Social Impact Design:
Dream Ring Concept – havas X IDEAfree
—Sports, Leisure & Recreation:
Mugello R D-Air® – Dainese SpA
Q-Collar – Priority Designs for Q30 Innovations
—Student Designs:
Blink – Belfug Sener of Futerodesign for College for Creative Studies | Middle East Technical University
Sai Flatpack Furniture – Mathew Simon, ArtCenter College of Design/Ayuri Tsunoda, Tama Art University
Unit Helmet System – Jaehoon Jung of Ecole cantonale d'art de Lausanne (ECAL)
Microsoft scored five IDEAs—the Best in Show and three Golds listed above—and a Bronze IDEA for XBox One S in the Entertainment category. "At Microsoft, we believe that technology has the potential to fundamentally change the world around us—pushing creation, learning and innovation to new dimensions," says IDSA Fellow Steve Kaneko, partner-director of design, Microsoft. "We are humbled to be recognized in several IDEA categories this year."
The ceremony was followed by the IDEA 2017 Gala, sponsored by Samsung, at the High Museum of Art. IDSA IDEA 2017 winners will be featured in IDSA INNOVATION magazine's Yearbook of Design Excellence 2017. Congratulate the winners using #IDSAIDEA @IDSA on Twitter; Industrial Designers Society of America on Facebook and LinkedIn; and @IDSAdesign on Instagram.