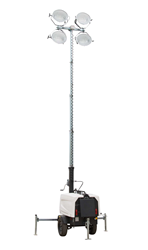 This telescoping light tower is built to withstand the worst outdoors conditions, illuminates acres of space with powerful light, and can easily be transferred from site to site. It's a very ideal option for remote locations and emergency applic
Kemp, TX (PRWEB) August 18, 2017
Industrial lighting leader, Larson Electronics LLC, announced the release of a new towable mobile light tower equipped with a water-cooled diesel engine. This telescoping tower is ideal for emergency services in large scale operations such as construction, mining and industrial sites.
The WCDE-4X15M-8KW-MHL is a self-contained towable light tower that produces enough light to illuminate up to 8 acres. Four 1,500 watt metal halide lamps produce a total of 600,000 lumens producing a wide flood light pattern, and are mounted on a telescoping light mast that can be raised to 30 feet, making this mobile light tower ideal for emergency operations. The telescoping boom is constructed of galvanized steel, which is resistant to rust and corrosion from unpredictable outdoor weather. The boom can withstand 65 mph winds at maximum mast height with stabilizing outriggers deployed.
This portable self-contained light tower features key operated starting, automatic safety shutoffs for low oil pressure and high temperature, as well as duel fuel filters and drain ports that can be easily accessed for maintenance. The Kubota diesel engine is water-cooled and produces 8,000 watts and 120/240V @ 60Hz. This powerful unit can run for up to 50 hours straight without refueling, thanks to a 30 gallon tank; making this light plant ideal for remote locations and emergency service situations, where traditional power sources are not reliable, or available. The entire rig is mounted on a trailer with a 3500 lb. leaf spring axle and three 3000 lb. adjustable leveling jacks for easy and reliable towing from site to site.
"At Larson we always put a focus on engineering the most durable, longest-lasting products we can. Our towable light plants are no exception to this." said Rob Bresnahan, CEO of Larson Electronics LLC. "This particular telescoping light tower is built to withstand the worst outdoors conditions, illuminates acres of space with powerful light, and can easily be transferred from site to site. It's a very ideal option for remote locations and emergency applications."
About Larson Electronics LLC: Larson Electronics LLC is a manufacturer of industrial lighting equipment and accessories. The company offers an extensive catalog of industry-grade lighting and power distribution products for the following sectors: manufacturing, construction, food processing, oil and gas, military, marine and automobile. Customers can benefit from the company's hands-on, customized approach to lighting solutions. Larson Electronics provides expedited service for quotes, customer support and shipments.
High Resolution Image 1-WCDE-4X15M-8KW-MHL
High Resolution Image 2-WCDE-4X15M-8KW-MHL
High Resolution Image 3-WCDE-4X15M-8KW-MHL
High Resolution Image 4-WCDE-4X15M-8KW-MHL
High Resolution Image 5-WCDE-4X15M-8KW-MHL
Product Cut Spec Sheet-WCDE-4X15M-8KW-MHL