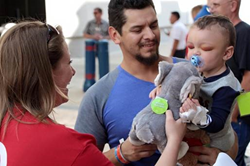 Dallas, TX (PRWEB) August 14, 2017
Starting in July, Cornerstone Credit Union League will begin their annual Credit Unions Care "CU Ride" motorcycle tour that will travel to cities in Arkansas, Oklahoma, and Texas to deliver stuffed animals to kids at local children's hospitals. Resource One Credit Union will host the Dallas tour at Resource One Credit Union's Training Center (1200 Sullivan Dr., Dallas, TX 75215). Credit union representatives and community members will gather at the training center on Thursday, August 24 at 9:00 AM and will leave to deliver the toys by motorcycles and vehicles to Children's Medical Center (1935 Medical District Dr., Dallas, TX 75235).
Resource One Credit Union called upon their members and employees in April and May to help support the CU Ride by asking them to donate a new stuffed animal that would be given out during the event. Resource One Credit Union received an overwhelming response and collected over 750 animals to deliver to patients. In addition to the stuffed animals, Resource One Credit Union will also be hiring a princess and superhero to participate in the CU Ride, help hand out toys, and entertain the children at the event.
"This is truly a heartwarming experience," stated Jennifer Grinder, Resource One CSM and DE. "When kids visit the hospital, it can be stressful or scary. We are hoping that these stuffed animals can help bring them comfort during their stay, whether it be long or short. We are very excited to be hosting this event and look forward to working with Credit Union Cares in the future."
To find out more about Credit Unions Care or their current initiatives visit http://www.creditunions.care.
The community is encouraged to participate with the free CU Ride event by registering at the link on the Cornerstone Credit Union League's website: https://www.cornerstoneleague.coop/cu_ride.html.
About Resource One Credit Union
Resource One Credit Union was originally chartered as Sears Dallas Employees Federal Credit Union in 1936. Over time, the increased demand for more locations and additional products and services prompted the expansion of our product lines and field of membership. Today Resource One proudly serves as a not-for-profit financial institution for the communities of Dallas and Harris counties. Resource One has 11 convenient locations to serve our over 55,000 members. Visit Resource One Credit Union's homepage at http://www.r1cu.org.