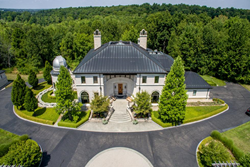 Pompano Beach, Florida (PRWEB) August 15, 2017
"Michigan Eclipse-Watching Mansion"
Star gazers and sky watchers have a number of options for seeing the August 21st total solar eclipse, from the least expensive in their backyards to paying $35,000 for a ticket on an airplane that will fly above the clouds serving champagne and guaranteeing passengers non-obstructed views. Eclipse events are planned throughout the United States with local festivals and exhibits. Everyone is involved from NASA, the National Park Service (it will traverse 26 national parks), airports and even viewing events at zoos along its path.
Although it is not usually one of the options offered on today's new homes, many people have added expensive telescope systems to their own homes. Sky Village is a community in the back lands of Arizona where each home has its own observatory and strict rules to live by. Residents must officially agree to keep their homes totally dark with blackout shades and drive cars minimally or not at all after dark so as to not send artificial light into the heavens and disrupt the viewing of their neighbors. But what if one could have a home with their own observatory to enjoy without restricting modern life? The home could be located on acreage close to but not too close to a city or large town for living convenience, but without the skies being marred by artificial light. There is one - a stunning home in Michigan that is now for sale on 50 wooded acres with its own rotating observatory and telescope and a whole lot more. Although it is not in the prime 68-mile-long stretch from Oregon to South Carolina that will get the full eclipse effect, southeastern Michigan will see the moon block over 80% of the sun. It has been 38 years since the last eclipse passed over the U.S. and the next one won't be until 2024.
Located about 30 minutes from Ann Arbor, the 9,025-square-foot Palladian-style space observatory mansion took ten years to design and build. In addition to the observatory, the home has a long list of features including five serious man caves. Down a long wooded drive, visitors step into the center oval of the house and an inlaid compass rose from which all other rooms radiate. Above is the open second floor ringed with bronze balustrades and above that, a domed ceiling with skylight. The most interesting thing about the elliptical room is that you can whisper at the far end and be clearly heard at the other. All public rooms have an abundance of well-crafted millwork from the wainscoting to the coffered ceilings. A two-story library has a capacity for thousands of books. There are also a metal-working shop, electronics shop and a woodworking shop and carriage house in a separate building connected to the main house through a tunnel, a home theatre, widow's walk, a 1,000-bottle wine cellar and an elevator that covers five floors. And the pièce de résistance for star gazers: a two-story domed observatory that rotates allowing for a 360-degree view of the night sky, or in the case of an eclipse of the sun, daytime sky.
In addition to its formal, family and hobby rooms, there are four bedrooms, seven baths and a two-story stone screened porch with "singing" bronze screen when the wind blows. The listing agent is Jeffrey Post of Snyder & Company Realtors, Berkshire Hathaway Homes Services in Ann Arbor, Michigan, priced at $5.9 million.
Visit TopTenRealEstateDeals.com for more historic, celebrity and spectacular homes and real estate news.