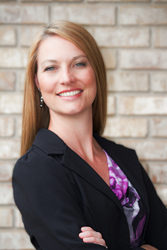 Our goal is to help everyone in the process understand the complex steps of the real estate transaction so the consumer is empowered to make informed decisions.
Denver, Colorado (PRWEB) August 15, 2017
North American Title Company (NATC) has named Natalie Koonce Colorado division president, overseeing the company's 11 branch offices throughout the state. Koonce most recently served as NATC's vice president and Southern Colorado manager.
"Natalie has proved to be a very effective manager in our Southern Colorado region, and we feel extending her oversight to the entire state will further strengthen our presence in all our Colorado communities," said Michael Montalvo, NATC central division president. "Her extensive work on our best practices certification and her stellar reputation as an educator in the real estate community make her uniquely positioned to lead our troops, in addition to training and mentoring the next generation of title agents and escrow closers at North American Title."
Koonce will focus on sharing successful techniques with the regional managers to better serve the company's real estate agent, lender and homebuilder customers, as well as enhancing NATC's efforts to provide robust educational offerings to industry professionals, homebuyers and sellers.
"I am fortunate to have talented and skilled associates at our branches," said Koonce. "My first goal is to provide them with the resources, training and enthusiastic support that will ensure their continued success. I am also acutely aware of how necessary it is to provide a continual flow of educational resources to our customers. Our goal is to help everyone in the process understand the complex steps of the real estate transaction so the consumer is empowered to make informed decisions throughout the process."
A native of Colorado, Koonce began her work in the real estate industry in 1993, spending the first six years managing a branch of one of the largest real estate firms in Colorado Springs. Prior to joining NATC in 2013, she served as an escrow officer for a Colorado Springs-based title company for six years. Previously, she was a branch manager for a national title company.
Koonce is located at 102 North Cascade, Suite 330, Colorado Springs, CO 80903 and can be reached by telephone at (719) 578-4100.
About North American Title
With well over 1,200 associates and a network of branches from coast to coast, North American Title Group, LLC (NATG) is among the largest real estate settlement service providers in the United States. Consisting of both agent and underwriter operations, NATG reported annual gross revenues in fiscal 2016 of $360.2 million. The company also has the resources and stability of being a wholly owned subsidiary of an S&P 500 company with over $15.3 billion in assets as of its fiscal year ended November 30, 2016. North American Title's agency network operates nationally under the name North American Title Co. and similar names (NATC) in 18 states: Arizona, California, Colorado, Delaware, Florida, Illinois, Indiana, Maryland, Minnesota, Nevada, New Jersey, New York, North Carolina, Pennsylvania, South Carolina, Texas, Utah and Virginia, in addition to the District of Columbia. Through our relationship with our expanding affiliate network, NATC provides real estate settlement services in all 50 states. NATG is headquartered in Miami, Florida. To learn more, visit http://www.nat.com.