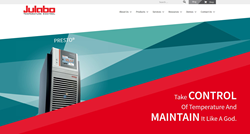 Not only can you view products, you can also take advantage of our expertise - all on one site
Allentown, PA (PRWEB) August 15, 2017
JULABO USA introduces its new website http://www.julabo.us and encrypted shopping cart. Now mobile responsive, the new website makes it easy to navigate through the site whether you're in the office, in the lab or anywhere in between. Users can now find detailed product information, educational industry content and visit the company's social media accounts, all on one comprehensive site.
JULABO Temperature Control's site streamlines the buying process by bringing together both product information and industry content. Companies can find everything they need to make the best decision for their application or facility.
"We are so excited to launch our new site, http://www.julabo.us today," said Ralph Juchheim, JULABO's president. "We are thrilled to spotlight all our products, from our dynamic temperature control systems to our circulators and immersion coolers. Not only can you view products, you can also take advantage of our expertise – all on one site."
The site focuses on Temperature Control products such as:

Highly Dynamic Temperature Control Systems
Refrigerated Circulators
Heating Circulators
Flow-Through Coolers
Immersion Coolers
Recirculating Chillers
Viscometer Baths
Water Baths
Every product features a full description, technical data, other recommended products and accessories as well as customer reviews.
In addition to comprehensive product information, the new site also features a full range of educational content. The product videos, educational blogs and informative whitepapers help customers decide which Temperature Control products will best serve their needs. If an immediate answer is needed, visitors can use the custom chat feature on the site.
About JULABO Temperature Control: Founded in 1967 by Gerhard Juchheim, JULABO is focused on developing precision temperature control products. The entire company, from the sales team to the executive team, is dedicated to creating the products and applications that help labs and companies create world-class environments for their research, development and production work.