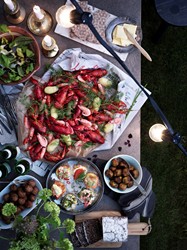 "The Crayfish Party is an anticipated celebration in Sweden marking the end of the summer and the official beginning of Crayfish fishing season."
CONSHOHOCKEN, Pa (PRWEB) August 15, 2017
As we prepare to welcome fall, IKEA invites family and friends to join together for one last summer celebration with its annual Swedish Crayfish Party on Friday, September 15, 2017 at participating stores nationwide**. Tickets for the all-you-can-eat crayfish buffet are available for only $18.99 per person / $4.99 for kids 12 and under, or at a discounted rate for IKEA FAMILY* members ($14.99 per person / $2.99 for kids 12 and under).
"The Crayfish Party is an anticipated celebration in Sweden marking the end of the summer and the official beginning of Crayfish fishing season," said Patricia Meumann, IKEA Food Manager, IKEA Food Manager. "We invite everyone to celebrate this tradition and share a piece of our Swedish heritage over a delicious meal."
The IKEA Crayfish Party menu*** includes:

Crayfish
Chef's Daily Soup
Deviled Eggs
Swedish Cucumber Salad
Pasta Primavera Salad
Potato Salad
Gravad Lax with Mustard Dill Sauce
Swedish Cheeses
Swedish Meatballs with Lingonberry Jam
Mashed Potatoes or Boiled Dilled Potatoes
Macaroni and Cheese
Corn Cobbett's
Assorted Swedish Desserts
Fountain Beverages, Coffee and Tea
Seating is limited, so those who are interested are encouraged to purchase tickets early at their local IKEA store. To locate and contact the nearest IKEA store for more details, including local seating times, visit the "Store Locator" page on http://www.IKEA-USA.com and enter your city/state or zip code.
Those not able to make it to the event can still enjoy the festivities at home! Host your own Crayfish Party with food from the Swedish Food Market in IKEA U.S. stores and learn "How to Peel a Crayfish" in the home activity outlined below.
Home Activity: How to Peel a Crayfish
Supplies: KRÄFTOR Frozen Crayfish
Directions:

Start with clean hands and remove the claws from the body of the crayfish. Twist off the joints from the claw ends and eat all the visible meat.
Crack the claw, for example, with a nutcracker to get to the meat inside.
Hold the crayfish body and grab the tail. Twist the tail to loosen it from the body and pull away.
Pinch the tail to make the shell easier to remove, then crack the tail open along the inside.
Pull out the tail meat and enjoy!
Optional: Use your finger to scoop the crayfish butter out of the body of the shell!
*IKEA FAMILY is a benefits program that offers membership perks including special product discounts, sneak previews, free coffee and tea in the IKEA Restaurant, and more. Consumers can sign up for the free program online or in-store.
**IKEA Carson will not be participating/will not be hosting a Crayfish Party event.
***Menu is subject to change due to product availability.
About IKEA
Since its 1943 founding in Sweden, IKEA has offered home furnishings of good design and function at low prices so the majority of people can afford them. There are currently more than 390 IKEA stores in 48 countries, including 44 in the U.S. IKEA incorporates sustainability into day-to-day business and supports initiatives that benefit children and the environment. For more information see IKEA-USA.com, @IKEAUSANews, @IKEAUSA or IKEAUSA on Facebook, YouTube, Instagram and Pinterest.