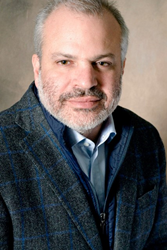 Dallas, Texas (PRWEB) August 15, 2017
WHO:

Brad McQuaid, Co-Creator of EverQuest, Chief Creative Officer of Visionary Realms, Inc.
David Reitman, Senior Vice President of Softtek and Non-Executive Director of Visionary Realms, Inc.
WHAT: McQuaid and Reitman will explore over two decades of videogame development, what has changed, lessons learned and what has come around full circle, in a session titled "The Evolution of Games Development and Why Hard Core Gamers Want A Subscription Game." During this fireside chat they will also discuss the value of today's development tools and why hard-core gamers are crying out for a game that does not support "pay to win." Additionally, McQuaid and Reitman will look at the value of DevOps partnered with QA that leverage agile methodologies.
WHERE: devcom 2017
1st Floor Congress Centre East, Congress-Centrum Ost Koelnmesse
Deutz-Mühlheimer Straße 51D – 50679 Cologne, Germany
WHEN: 14:00 CET, Monday, August 21, 2017
WHY: This is a rare opportunity for both veterans and newcomers to see McQuaid on the main stage, to experience a truly novel perspective that spans decades of video game development.
About Visionary Realms
Visionary Realms, a California based videogame studio, is driven to fearlessly lead and advance the MMO game industry by creating content-rich, challenging, highly social games that set new standards for immersion, quality, and vision. For more information about Visionary Realms visit http://visionaryrealms.com.
About Softtek
Founded in 1982, Softtek is a global company helping organizations bridge the digital gap. With presence in North America, Latin America, Europe and Asia, Softtek provides Global 2000 organizations with technology solutions that create value through technology. Visit http://www.softtek.com, follow @Softtek, connect with Softtek on LinkedIn and read Softtek's blog.
About devcom
The brand new games industry meeting devcom will take place for the first time this summer as a side event to gamescom. From the 20th to the 24th of August (Sunday to Thursday), devcom will offer a varied lineup of events, including the devcom developer conference on Monday, the devcom summits and a new networking area, the devcom developer lounge.
Beyond keynotes and panels, the devcom developer conference also includes workshops, summits, master classes and matchmaking:
devcom master classes: high class workshops for up to 40 attendees with international speakers hosted in the devcom developer lounge
devcom tutorials: up to four separate hands-on tutorials on how to use the latest technology, engines or advertising tools hosted in the devcom developer lounge
devcom summits: three special interest focussed summits on Mobile Gaming and Innovation, VR/ AR/ MR as well as Influencer Marketing.
In addition to devcom, gamescom's own official keynotes will take place from Tuesday to Thursday. Finally, this exclusive program will be rounded out by the indie conference RESPAWN. With its wide range of talks, workshops, tutorials and keynotes, devcom has the right event for anybody working in the games industry, from students of game design and young professionals to senior developers and managers in leadership roles.
You can find additional information on devcom and its individual events and conferences at devcom.global
For more information, contact:
(For Visionary Realms):
Benjamin Dean
ben(at)visionaryrealms.com
+1 (514) 206-4461
(For Softtek):
Karen Liedl
karen.liedl(at)softtek.com or cmet(at)softtek.com
+1 (763) 291-1464
(For more information on devcom):
Veronika Maucher of Aruba Events
maucher(at)aruba-events.de
+49 (911) 2872-159 or maucher(at)aruba-events.de