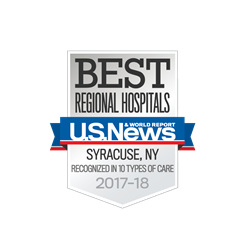 "Consistently receiving this recognition, and in all of the areas measured, demonstrates that St. Joseph's Health is not only a leader in Central New York, but a leader in the nation
Syracuse, NY (PRWEB) August 16, 2017
St. Joseph's Health Hospital has been recognized for the third consecutive year as a "Best Regional Hospital" and ranked #9 in New York State by U.S. News & World Report (up from its #13 ranking last year).
St. Joseph's is the only hospital in our region to have achieved this recognition – receiving the "Best in Central New York" designation. And St. Joseph's is ranked as a high performing hospital in ALL NINE procedure areas that are measured, as well as a new specialty area added this year:
1. Abdominal Aortic Aneurysm Repair
2. Aortic Valve Surgery
3. Colon Cancer Surgery
4. Chronic Obstructive Pulmonary Disease (COPD)
5. Heart Bypass Surgery
6. Heart Failure
7. Hip Replacement Surgery
8. Knee Replacement Surgery
9. Lung Cancer Surgery
10. *NEW* this year: Orthopedics
"Consistently receiving this recognition, and in all of the areas measured, demonstrates that St. Joseph's Health is not only a leader in Central New York, but a leader in the nation," said Leslie Paul Luke, President and CEO at St. Joseph's Health. "And I can tell you exactly how we do it: it is through our very specific commitment to our mission, properly utilizing the network of care that we offer, and listening to our patients and our employees."
There are nearly 200 hospitals in New York, which means that St. Joseph's has been ranked in the top 5% of all hospitals in the state.
To help patients make smart, well-informed choices, U.S. News has published annual hospital rankings for more than 25 years. The U.S. News "Best Regional Hospitals" rankings are widely recognized by consumers and healthcare professionals as the "gold standard" mark of excellence. For more information, visit health.usnews.com.
_
About St. Joseph's Health:
St. Joseph's Health is a non-profit regional health care system based in Syracuse, N.Y., providing services to patients throughout Central New York and northern Pennsylvania. From primary to specialty to home care, to our Magnet-recognized hospital, and in collaboration with our community partners, St. Joseph's Health is advancing the health of the communities we serve through an expanding range of healthcare services to ensure our patients achieve optimum long-term health. Ranked by Consumer Reports among the top 15 heart surgery centers in the country, U.S. News "Best Regional Hospital" and a 15-time winner of the National Research Corporation Consumer Choice award, St. Joseph's is widely recognized for quality, value and delivering the highest patient satisfaction. St. Joseph's Health is affiliated with Franciscan Companies and St. Joseph's Physicians and is a member of Trinity Health.