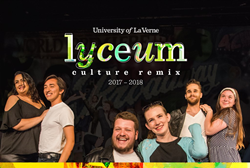 "We welcome the campus and community to take this arts and culture journey with us as we create our own mixtape of blends and freestyles, spinning it into a relevant 21st-century narrative." - Dr. Lawrence Potter
La Verne, Calif. (PRWEB) August 14, 2017
A Pulitzer Prize-winning author, a Pulitzer Prize-winning photographer, and a Nobel Laureate will headline the fall season of the University of La Verne's Lyceum visual and performing arts series. The trio are part of a rich and eclectic calendar of more than 30 performances, talks, and exhibitions to be held at the university in the upcoming academic year.
This year's Lyceum series, themed Culture Remix, opens Aug. 28 with "Forty-Two Years and the Frequent Wind: Vietnamese Refugees in America," a photo exhibition by Pulitzer Prize-winning photographer Nick Ut.
Other signature events scheduled for the fall include:

Sept. 14: "Unloaded," a group art exhibition which includes an artist talk and reception. The exhibition examines historical and social issues surrounding the availability, use, and impact of guns
Sept. 25: Living Peace Lecture by Nobel Peace Prize recipient Dr. Rigoberta Menchú Tum, a leading advocate of Indian rights, co-founder of the United Republic of Guatemalan Opposition, and a UNESCO Goodwill Ambassador
Oct. 4: Lecture by Pulitzer Prize-winning author Viet Thanh Nguyen, who wrote the University of La Verne's 2017 One Book, One University selection, "The Refugees"
Nov. 12: LA Philharmonic violinist Vijay Gupta returns for a Sundays at the Morgan performance
Many events are free and open to the public, but donations are encouraged.
"We welcome the campus and community to take this arts and culture journey with us as we create our own mixtape of blends and freestyles, spinning it into a relevant 21st-century narrative," said Dr. Lawrence Potter, dean of the University of La Verne College of Arts and Sciences.
Lyceum launched in 2016 in celebration of the University of La Verne's 125th anniversary. The name Lyceum, which is Greek, refers to public lectures, discussions, concerts and entertainment.
Subscribers enjoy priority seating, VIP invitations to select pre-concert receptions, and other benefits. See the full calendar of events and subscribe at laverne.edu/lyceum.