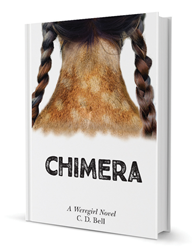 Filled with romance, tragedy, perseverance, and adventure, CHIMERA: A Weregirl Novel is a breathtaking continuation of the Weregirl saga, proving to be THE not-to-be-missed YA novel of the fall season.
Waitsfield, Vermont (PRWEB) August 15, 2017
Chooseco, known for the world-famous, bestselling interactive children's series Choose Your Own Adventure(R) will release the second installment in the Weregirl trilogy this November.
In 2016, Chooseco took a leap into linear YA fiction with the publication of WEREGIRL, the first book in the trilogy. The project was team created and plotted in a writer's room of six female writers who shared the goal of creating a female heroine worth looking up to. The group then folded in noted YA novelist, Cathleen Davitt Bell, as the writer under the pseudonym C. D. Bell.
"CHIMERA: A Weregirl Novel," is to be released in the United States on November 1.
WEREGIRL was praised by numerous critics for successfully reinventing the classic werewolf myth with a feminist take:
"Nessa, a strong character with a dream and the bravery needed to be a hero to many," raves the San Francisco Book Review.
Named "a must-read YA book of the month" by Teen Vogue.
"Unlike any book you've read before," says Revelist.
The series centers on Nessa Kurland, a brave, ambitious 16-year-old cross-country runner who transforms into a werewolf after being bitten on a nighttime run in the overgrown trails of her fictional town of Tether, Michigan.
"WEREGIRL introduced readers to Nessa's origin story," Melissa Bounty, Chooseco Associate Publisher and Head YA Editor, says. "We watched Nessa evolve from a competitive runner to a powerful WEREGIRL learning to transform with the moon, and to use her powers to combat evil in her small town."
In Bell's sequel, CHIMERA, Nessa is stronger and has more control over her transformations, but there's more at stake than just moon cycles. Catastrophe strikes as Nessa's mother, Vivian, is arrested by the FBI and held without bail, indefinitely. Anti-wolf sentiment in fictional Tether, Michigan is spreading as cases of wolf attack are increasing. And Paravida, the corporation that haunted book one with their subverted control of the town has unwittingly released a hoard of genetically mutated wolves into the woods.
CHIMERA poses critical questions about the ethics of scientific experimentation, as scientists toe the line between innovation and disaster in the quest to control and shape the world we live in. At once, the forces of magic, science, and nature converge to set in motion the first battle of an epic war... with Nessa at the heart of it.
Filled with romance, tragedy, perseverance, and adventure, CHIMERA: A Weregirl Novel is a breathtaking continuation of the Weregirl saga, proving to be THE not-to-be-missed YA novel of the fall season.
Weregirl, the first in the series, will also be available in audiobook on November 1, 2017 via Audible.
For more about the Weregirl Trilogy and CHIMERA: A Novel, visit http://www.weregirl.com.
About Chooseco
Founded in 2003, Chooseco publishes The Choose Your Own Adventure series and WEREGIRL. Widely commended for its appeal to reluctant readers, the Choose Your Own Adventure series is the 4th bestselling book series of all time, with more than 270 million copies sold in over 40 languages. Each story is written from a second-person point of view, with the reader assuming the role of the protagonist and making choices that determine the main character's actions in response to the plot and its outcome. Find out more at http://www.cyoa.com.
About C. D. Bell
When she's not hanging out with her two children and husband in Brooklyn, NY, you can find C. D. Bell (Cathleen Davitt Bell) writing in a decrepit RV clinging to the side of a hill in upstate New York, trying to teach herself to watercolor, or inventing her own recipes. Bell is a voracious reader of anything and everything fantasy, supernatural, or romance. And she swears that the monsters she often writes about are not real—at least she hopes not. C. D. Bell received her undergraduate degree from Barnard College and her MFA in Creative Writing from Columbia University, and is the author of the novels Weregirl, Slipping, Little Blog on the Prairie, I Remember You, and a co-author of The Amanda Project.
Created in a writer's room of six talented female writers, C. D. Bell is a Chooseco author pseudonym developed with teen author Cathleen Davitt Bell.
To find out more about CHIMERA and the Weregirl trilogy, please contact Elizabeth Adelman at weregirl(at)chooseco(dot)com or by telephone at 802-496-2598.