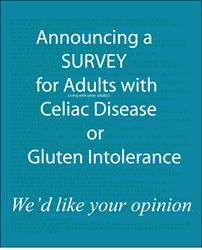 We want to understand your life experiences as you navigate the gluten-free lifestyle.
Centennial, CO (PRWEB) August 20, 2017
Are you an adult with gluten intolerance or Celiac disease living with another adult in the same household? If so, you may be interested in participating in a research study that focuses on family interactions when dealing with dietary restrictions. The purpose of this research is to understand more about the relational aspects of adults who have gluten sensitivities who cohabitate with other adults who may or may not have dietary restrictions.
In a recent issue of the Journal of Gluten Sensitivities on celiac.com (https://tinyurl.com/y9966tg4), we announced a research study/survey for adults who are 18 or older and living the "gluten-free" lifestyle in a household with other adults over 18.
The survey is a research study conducted by Alternative Cook, Jean Duane who is a PhD Student at University of Denver. It will focus on family interactions when dealing with dietary restrictions, with the potential to increase family member's compliance. It will seek to gain insight on the perceived impact one adult's food restrictions cause in a household when cohabitating with other adults. This study has social significance because family unity in the future may rely on developing strategies for compliance to address this emerging social problem. It will provide coping strategies, solidarity and empowerment to this community. To access the survey, please click here: https://udenver.qualtrics.com/jfe/form/SV_4PGO6q26mnl1aXX or go to Celiac.com.
Please consider participating in this survey. Your responses will be kept confidential. The survey should take around 10 minutes to complete and a compilation of the results will be published in an upcoming issue of the Journal of Gluten Sensitivities on Celiac.com. Possible benefits of participation include providing insight for adults who live the gluten free lifestyle by supplying information on how others cope. Further, the study will afford caregivers, cooks, and others a path to empathy by creating an awareness of the plight of everyday life for those with severe food sensitivities. As a "thank you" for participating in this survey, your name will be entered into a drawing. Four lucky winners will receive a $25 gift card from Amazon.com.
If you are interested in participating in a more in-depth interview to discuss your coping strategies, successes and struggles, you will be prompted at the end of the survey to provide contact information. Jean Duane will contact you and schedule a mutually agreeable time for the interview.
Thank you to Scott Adams of Celiac.com for sponsoring this study.
Jean Duane, Alternative Cook (alternativecook.com) is the author of Bake Deliciously! Gluten and Dairy Free Cookbook, The Complete Idiot's Guide for Gluten Free Cooking and worked with Betty Crocker developing recipes for the Betty Crocker Gluten-Free Cookbook. Ms. Duane produced four full-length cooking instructional DVDs (Italian, Kids' Meals, Chocolate and Mexican). She has authored numerous magazine articles, appeared in several editions of PBS's Life Wise series and produced several spots on Comcast's Video on Demand. She has been a featured speaker at two international conferences for the International Association for Culinary Professionals, as well as for the Gluten Intolerance Group of North America. She is now pursuing a PhD at Denver University, focusing her research on the social aspects of life with food allergies.