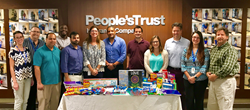 We are proud to be able to support our teachers in the community and help fill their classrooms with supplies
Deerfield Beach, Florida (PRWEB) August 16, 2017
As Broward County schools return for another school year, a Broward-county based insurance company is working to ensure Broward county teachers have the supplies they need to provide a successful year ahead to their students.
For the third year in a row, People's Trust Insurance is collecting copy paper, pens, glue sticks, calculators, and more for the 2017 Tools for Schools drive, which is a Broward Education Foundation campaign that provides Broward County teachers in low income schools the chance to shop for the free school supplies they need year round.
"We are proud to be able to support our teachers in the community and help fill their classrooms with supplies," said Amy Rosen, Chief Marketing & Communications Officer. "It's very exciting to see our drive continue to grow each year. We know we are making a difference in the lives of tomorrow's youth so they have the necessary tools to start the school year off right."
In past years, Broward County teachers have had to reach into their own wallets to purchase much-needed school supplies, but Tools for Schools and its partners are working to change that. Many People's Trust employees have generously brought in supplies to donate. The foundation will provide free supplies to approximately 300,000 students and 15,000 teachers in Broward County. For more information about the Broward Education Foundation, visit http://www.browardedfoundation.org.
# # #
ABOUT PEOPLE'S TRUST INSURANCE
Founded in 2008, People's Trust Insurance has emerged as one of Florida's top 10 home insurance companies, providing homeowners with affordable rates and benefits not available anywhere else. Honored with the Enterprise Florida Governor's Innovators in Business Award, People's Trust provides a "Better Way" for over 135,000 Floridians to insure their homes. With more than 500 employees in its family of companies and an affiliation with Florida's largest residential insurance restoration general contractor, People's Trust is Florida's best-prepared home insurance company and a full partner in our policyholders' recovery after loss.