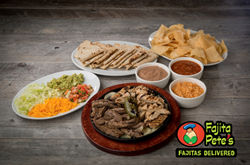 Houston, Texas (PRWEB) August 15, 2017
Schools, sports teams, and non-profit organizations can raise money for a great cause while eating Fajita Pete's fresh food when they sign up for a Spirit Night fundraiser.
Spirit Nights can be scheduled for Mondays, Tuesdays, and Wednesdays. Organizations will receive 15 percent of sales from customers who mention the fundraiser from 4 p.m. to closing. A Spirit Night request form can be found at http://www.fajitapetes.com/donations-fundraising/.
Individuals representing teams and community events also can visit that page to contact Fajita Pete's about donations and sponsorships.
Founder, Pete More: "I believe spirit nights allow us yet another way to connect with our local community directly. Local support is key to any business, and genuine community connections enable us to deepen our roots with the people we serve."
Organizations can raise up to $500 by scheduling and promoting their Spirit Night and encouraging friends and family to order Fajita Pete's made-from-scratch Mexican food on the specified Spirit Night. Fajita Pete's menu includes hand-rolled tortillas, fresh-off-the-grill beef and chicken fajitas, and sides like beans, rice, guacamole and chile con queso.
Participating organization are entirely responsible for advertising your event through all means possible: printing and handing out flyers in person, communicating with family & friends, mass emails and sharing on social media.
Organizations will receive their donation checks no later than two to four weeks after the event.
The Houston-based Fajita Pete's chain has seven locations in Texas. Bellaire, Memorial, Richmond, Spring Cypress, Katy Mason, Pearland and one in Dallas. Restaurants in Sienna Plantation, Cypress, and Midtown are scheduled to open soon in Houston, while Dallas can look forward to their second location later this year.
About Fajita Pete's
Fajita Pete's is a Houston-based Mexican restaurant that offers fresh, made-from-scratch beef and chicken fajitas and sides for delivery, pickup, catering, and dining-in. Founder Pete Mora opened his first restaurant in 2002 and soon received catering requests from local companies. Envisioning a better way to fill a growing niche, he closed his successful restaurant after five years to focus on the catering and delivery model that became Fajita Pete's.
For more information, visit http://fajitapetes.com.